This Season at The Woods
By Eliza Phillips, Environmental Educator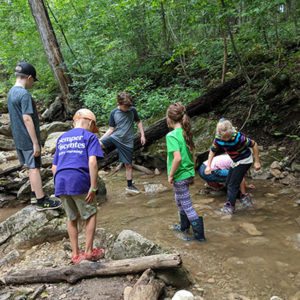 A stream is constantly changing. Think back to a few weeks ago, what did the stream at Baltimore Woods look like? Spring had sprung and one of the best places to observe the changes each season brings to Baltimore Woods is to stop at the upstream bridge on the valley trail to visit Baltimore Brook. Following the snowmelt, the stream was bursting its banks. If you had examined its banks back in the spring, you would have noticed how the roots of hemlock trees and streamside plants were keeping the soil from being swept away. The water was so cold and the bank was mostly brown, but a few weeks later,  the water warmed and a transformation took place.
Spring has transitioned to early summer and as you hike down the valley trail towards the upstream bridge you notice how the longer days and warmer weather has changed the stream and forests around it. The stream has come alive with more than just the rushing water, as it was just a few weeks ago. The banks are greener as the streamside plants have grown their leaves and you may notice a faint buzzing noise as clouds of insects hatch and emerge from the water. Some, like mayflies, will die within one day. Others, like blackflies, will stick around to take a bite out of you first. No need to worry, as annoying as these bugs may be, they mean our stream is healthy, running clean and fast through the woods. They become food for the trout hiding in the shade of a hemlock.
As August wanders in, the days are becoming hotter. You cross the bridge and can imagine how the cool water would be a relief to your feet that are smothered in your boots. Notice how the water is low, revealing some of the squishy mud along the bank. You remember a time when, as a child, you felt it between your toes and built sculptures from it. Like the trout, you find a shady spot under a hemlock to get out of the bright sun and listen to the water trickle by. Water is necessary for all life and as humans we are drawn to it as a place to play, reflect, relax, and explore. As our lives change directions, remember that a stream is always changing as well. The water erodes the bank creating new twists and turns over time,in the same way that new experiences change us.