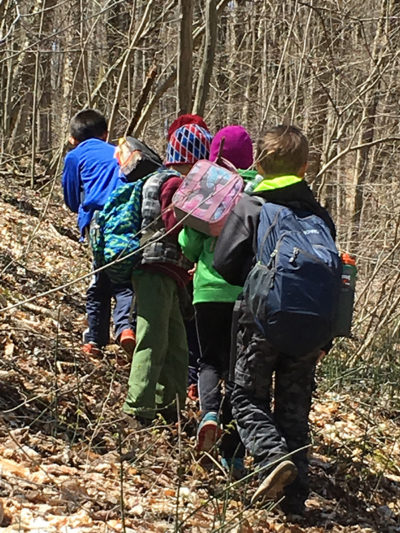 Fall School Break Camps
Saturday, October 3rd
Saturday, October 17th
Wednesday, November 11th (Veteran's Day)
Saturday, November 21st

Ready for a break from school? A day at Baltimore Woods is just what you need! Come to camp for full-day adventures outside, in the woods, hiking, exploring, and playing in the Baltimore Woods Nature Camp tradition.  Camp runs from 9am-3pm. Designed for children in grades K-8. Family membership required. Pre-registration is required. Space is limited. Register online at baltimorewoods.org.
Cost: $52/per child/day. All fees included.
What is Nature Day Camp All About?
For over 30 years, Baltimore Woods Nature Center has offered day camp experiences for kids. In addition to summer, week-long camp programs, Baltimore Woods has developed school break camps, giving kids a fun-filled outdoor day while school is not in session. Nature day camp adventures promote discovery, physical fitness, problem-solving skills, social interaction, and awareness through direct contact with the natural world. Campers will find crayfish in the streams in the summer, build forts on Peanut Hill year-round, hike out to Phillips Pond to discover its inhabitants in all seasons, build a campfire, play classic Baltimore Woods camp games, make new friends, learn about the trees and birds, and get connected to the natural world in real and meaningful ways.
Our camp counselors are experienced in working with children, have an eye for safety, and know how to have healthy fun outdoors. Counselors are all certified in CPR and carry walkie-talkies and first aid kits at all times.
Baltimore Woods campers are often repeat visitors, as every camp adventure provides something new and unexpected!