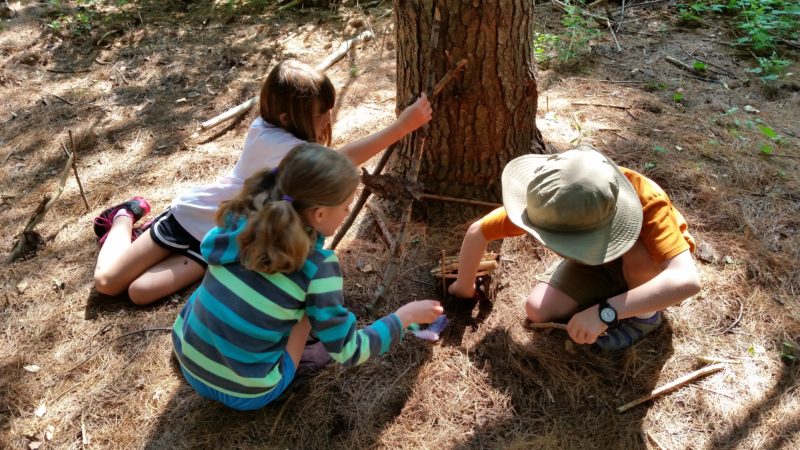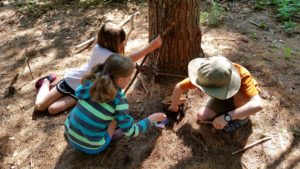 Baltimore Woods Nature Center believes all children need to spend time in nature, regardless of their ethnic, social or economic backgrounds and that no child should be denied the opportunity to attend one of our camps. We are grateful to be able to offer scholarships each year through the generous donations of individuals and organizations.
The Baltimore Woods Nature Center Scholarship Fund was created to help individuals who would otherwise not be able to attend Summer Nature Day Camp give their children the experience of outdoor adventure and exploration. Since 2021, we have extended this scholarship fund to provide scholarships for School Break Camps to assist families in providing these important outdoor experiences for their children.
To apply for a camp scholarship, click on the button below. Applications are reviewed in the order they are received, and we encourage you to submit early and via email for optimal chance at the week your camper(s) can attend. Weekly availability to attend camp is impacted by overall enrollment.
To learn more about our Nature Day 
Camp
programming or how you can contribute to the 
scholarship
 fund, contact us at 
(315) 673-1350
.
Camp Scholarship FAQs
How are scholarships determined?
Scholarships are awarded primarily based on need, and funds are designated for children who would otherwise not be able to attend Summer Nature Day Camp. The scholarship committee will confidentially review applications and determine awards on a rolling basis.
How are scholarships funded?
Baltimore Woods Nature Center receives donations from individuals and organizations designated for the Camp Scholarship Fund. In addition, in December 2017, we hosted a fundraiser where all the proceeds went directly to camp scholarships.
How much money is available for scholarships?
Limited funds are available as donations can fluctuate annually. Scholarships are awarded in various amounts; some partial scholarships will be awarded.
When are the deadlines for scholarship applications?
There is no deadline for scholarship applications. We do advise that you send your application in as soon as possible as there is a limited amount of funding for scholarships and we award on a first-come first-served basis.
When will scholarship applications be reviewed?
Our goal is to respond to requests within two weeks of receipt.
How will I be notified whether or not my child will receive a scholarship?
You will be notified with an official letter via email and/or regular US mail if an award is made in your child's name. The award letter will contain instructions on how to register your child for camp. Please select how you prefer to be contacted in the application section.
If I am awarded a scholarship, am I required to purchase a family membership to register my child?
No. Because this scholarship fund is designated for children who would otherwise not be able to attend Summer Nature Day Camp, we waive this requirement for scholarship recipients.
If I am awarded a scholarship, will my child's counselor and other campers know they have received a scholarship to attend?
No. Only the Camp Scholarship Committee and Baltimore Woods office staff directly involved in the registration process will know which campers have received a scholarship.
All information submitted with this application will be kept confidential.
 If you have any questions, please contact the Camp Scholarship Committee at [email protected].