Trail School

 



Outside Nature Explorations for
Children Ages 5 to 13
This program is designed to focus on child-led learning through play and exploration with the guidance of a naturalist who knows the preserve and the skills to encourage discovery, inquiry, experimentation, and imagination. These monthly series run weekly on Thursday afternoons. Rain, snow, or sunshine – we will happily go outside! Themed sessions are listed below.
Explore and learn on the nature preserve!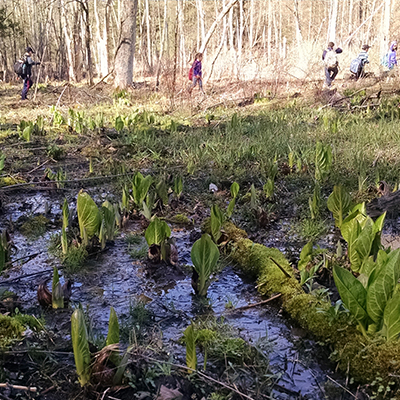 September Series
September 15 – 29
3 Thursdays, 1:00 – 4:00pm
$48 members; $69 public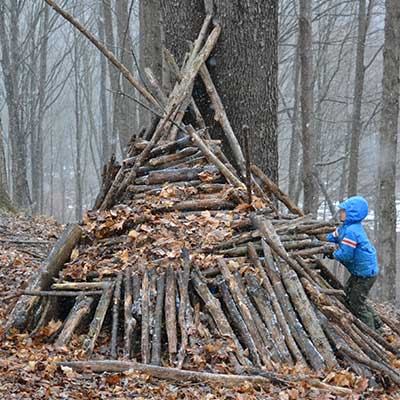 October Series
October 6 – 27
4 Thursdays, 1:00 – 4:00pm
$64 members; $92 public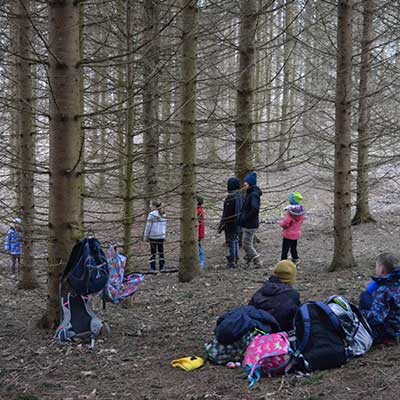 November Series
November 3- 17
3 Thursdays, 1:00 – 4:00pm
$48 members; $69 public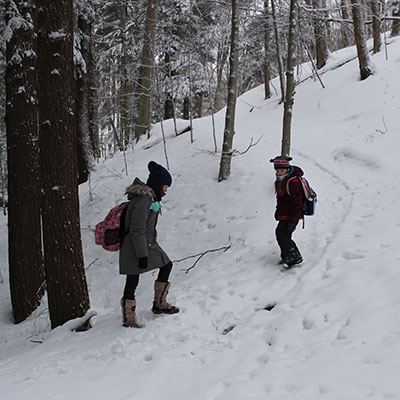 December Series
December 1 – 15
3 Thursdays, 1:00 – 4:00pm
$48 members; $69 public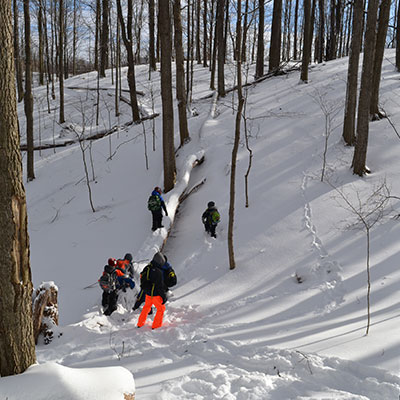 January Series
January 12 – 26
3 Thursdays, 1:00 – 4:00pm
$48 members; $69 public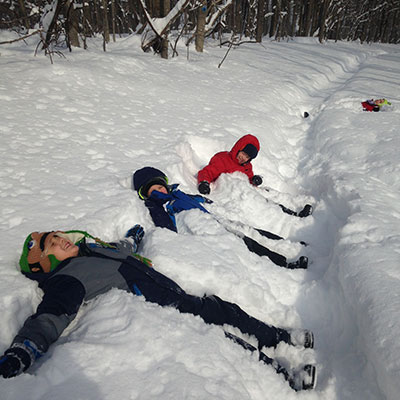 February Series
February 2 – 16
3 Thursdays, 1:00 – 4:00pm
$48 members; $69 public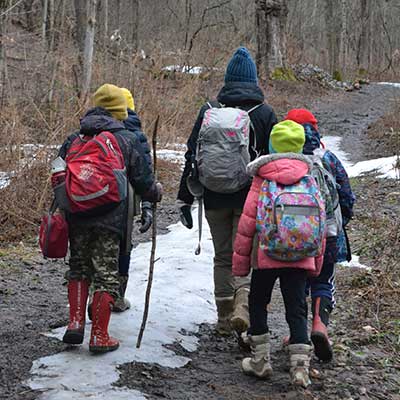 March Series
March 2 – 30
5 Thursdays, 1:00 – 4:00pm
$80 members; $115 public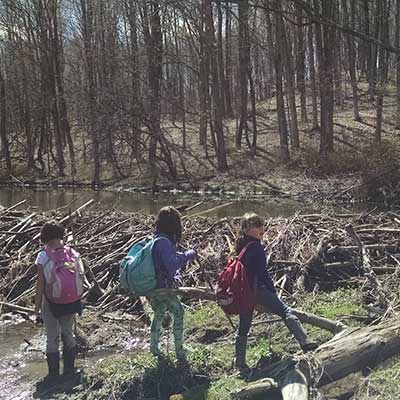 April Series
April 11 – 25
3 Thursdays, 1:00 – 4:00pm
$48 members; $69 public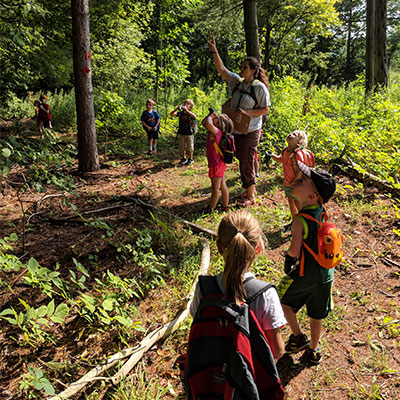 May Series
May 4 – 25
4 Thursdays, 1:00 – 4:00pm
$64 members; $92 public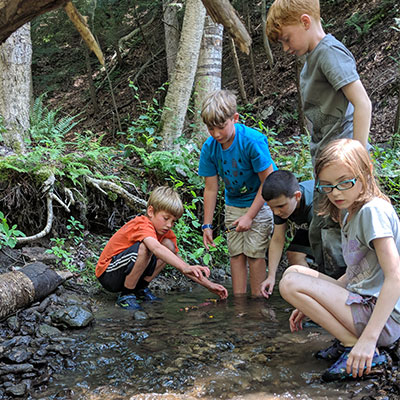 June Series
June 1 – 22
4 Thursdays, 1:00 – 4:00pm
$64 members; $92 public
What to expect from Trail School?
Each day will include a hike through the forests and fields, often away from the main trail system. Naturalists will have field guides, magnifying lenses, observation jars, and other tools of discovery to help children deepen their curiosity and facilitate on-the-spot learning. Of course, nature itself will provide anything else we need, and there will be time for free play and the space for each child to connect with nature in their own way. Our 182-acre "classroom" is rich with diverse habitats, including streams, forests, wetlands, beaver ponds, and open meadows.   Below is a list of some of our favorite locations to explore!
Stream and Pond Exploration: Flowing through our preserve we have Baltimore Brook, Mulroy Brook, Spring Brook, Boulder Brook, and the static Phillips Pond. These water sources are excellent locations to explore aquatic wildlife and discover the wonders of water.
Peanut Hill: On top of a hill in a secondary growth forest of maples, aspens, and hornbeams, there's a variety of sticks of all shapes and sizes scattered about making Peanut Hill our favorite location to build forts! 
The Beaver Dams: Along Baltimore Brook is a beaver pond with an active dam that provides a first hand resource for observing the impact of beavers and how they instinctively work to change the land. 
Griffiths Flats: This shallow emergent marsh and abandoned beaver dam area is a great location to find a plethora of interesting plants and wildlife. Whether it's fall, winter, or spring a hike through this area is always enjoyable with something to discover.  
The Gravel Pit: Baltimore Woods could have become a gravel mine if not for the caring community of stewards that worked towards preserving Baltimore Woods for what it is today. This location reflects a little bit of that history of the land and is now a great place to play in our labyrinth and explore the different varieties of rocks.  
The Philosophy Behind Our Trail School
Trail School is inspired by one of the great naturalists of the 19th century, Enos Mills. Enos Mills himself describes the philosophy best as he talks about his Trail School at the base of Longs Peak, over 100 years ago: "These children were dealing with real things through interest, and their imaginations blazed with more keenness than it was possible for the powers of legends and fairy tales to incite. They had been to school, had studied, had worked, had learned without realizing it. Their reports amounted to enthusiastic recitations of new, big lessons well learned. Best of all, they were happy, and were eager to go on with this schooling – this developing."
This program is planned to be entirely outdoors, so please dress for the weather. Activities are suited for ages 5-13. Students must pre-register for the entire series. Adults are encouraged, but not required to join the group, and must stay on-site during the program. An indoor space with wifi is available, if needed. Bring a water bottle and a small snack. At Baltimore Woods Nature Center, the health and safety of our staff and visitors is of utmost importance. All in-person programming will follow best practices for keeping our participants safe, including health screenings, physical distancing and wearing facial coverings.
Multiple child discounts ($5) are automatically applied when you register. Discounts apply beginning with the second child.
A membership discount is available. Members receive discounted prices on our programs, as well as discounts in our gift shop and early notice of upcoming programs and events, including summer camp registration opening dates. Purchasing a single, one-year, family-level membership during your registration process will allow you to save on all programs you and your family members register for! You can purchase a membership while registering for your programs, or through our website. For more information on memberships, click here.