Whitney Lash-Marshall, Executive Director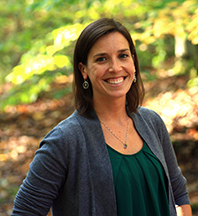 Whitney joined The Woods after several years of teaching and conducting research in the fields of conservation. She holds a Ph.D. in Environmental and Natural Resource Policy from SUNY-ESF. Growing up in Western New York, Whitney was an early explorer of all things outdoors and over the years has continued to connect with the environment through her work as a science educator, camp counselor, and naturalist.  A firm believer in the "hands-on, minds-on" model of connecting people to nature, she is excited to work with the Baltimore Woods community to promote the true power of place right here at home in Central New York. Whitney is an avid volleyball player, hiker, and traveler and looks forward to meeting you at The Woods!
Tom Meier, Camp Director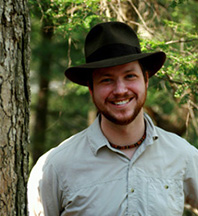 Tom graduated from SUNY-ESF in 2001 with a BS in Environmental Forest Biology and Forest Resources Management. He has been a counselor, naturalist, and director at various Boy Scout and Environmental Education camps for the past 20 years. Tom has many hobbies and skills, chief among them are playing banjo, guitar and mandolin, nature photography, and fly fishing. He spent his childhood playing in the woods, fishing in farm ponds, skipping rocks, building forts, camping, backpacking, and forming a deep connection to the natural world. As Camp Director at Baltimore Woods since 2007, he has been passionate about providing those same opportunities for hundreds of local children as they play and discover and build their own nature connections.
Fran Lawlor, Land Manager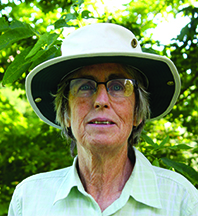 Fran Lawlor comes to Baltimore Woods as a former stewardship ecologist for The Nature Conservancy and a natural resources educator with Cornell Cooperative Extension. She has an M.S. in Plant Ecology from SUNY-ESF and extensive experience working with volunteers in tree care and invasive plant control. For Fran, the spirit of the woods and streams and the diversity of habitats, creatures and topography at the Woods are a perfect place for children and adults any time of year. Her children were campers almost 30 years ago and they look forward to their children's time to be campers, as well.  Fran is an incurable vegetable gardener and loves to eat. She and her husband live on the land where Fran was born in the town of Onondaga where they snowshoe, pick wild berries with their grandchildren and grow hops for Griffin Hill Farm Brewery on the home farm
David DuBois, Land Steward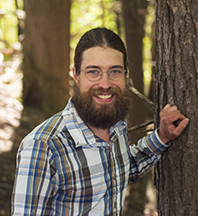 David graduated from SUNY-Binghamton in 2016 with a BS in Biochemistry. Since then he has been working on trails and wildlife out west. He has cleared trails in the wilderness of Idaho, tracked desert pronghorn in Mexico, chased woodpeckers around a fire scar in Oregon, and monitored declining birds in Montana. As land steward David is excited to keep the trails of Baltimore Woods usable and beautiful and the ecological processes of the preserve healthy and functioning. When not at Baltimore Woods he's probably birding, botanizing, or hiking somewhere else in Central New York.
Melissa Kirby, Environmental Educator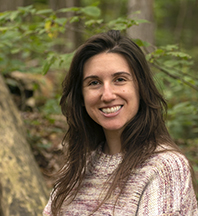 Melissa graduated from SUNY- ESF in 2016 with a BS in Environmental Biology. Her love for the natural world has fueled the passion to help others connect to nature in a personal way and see the beauty all around us.  In her spare time you'll find her exploring in the woods, probably looking for interesting fungi and wild edible plants.  Melissa loves working with children, encouraging their natural curiosity and sense of wonder with the outdoors. She is excited to be part of the Baltimore Woods community.
Anna Stunkel, Environmental Educator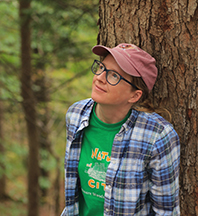 Anna graduated from College of the Atlantic in 2013 with a B.A. in Human Ecology and concentration in Wildlife Biology. She grew up in eastern Massachusetts and spent her childhood exploring out in nature. Anna is so excited to help inspire wonder, joy, and stewardship of the natural world for all ages through the diverse programs here at Baltimore Woods. She has worked as an ornithologist and environmental educator in a variety of places around the country, including two seasons as a raptor biologist at nearby Derby Hill Bird Observatory. She can't wait to get to know more folks in the Central New York community! Anna loves birding, hiking, horseback riding, traveling, and drawing colored pencil wildlife art.
Morgan Ingraham, Environmental Educator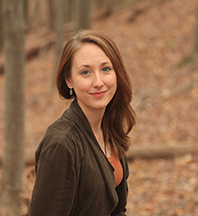 Morgan is currently finishing her M.S. in Ecology at SUNY-ESF and received her B.S. in Environmental Biology from Humboldt State University in Northern California. Among the redwoods of the Pacific Northwest, she fell in love with sharing a passion for nature and stewardship with people of all ages. Now settled in the Northeast, Morgan enjoys learning about the diversity of plants, animals, and fungi that live in this beautiful area. In her free time she climbs rocks, draws cartoons, plays music, and goes on fungal foraging adventures. She is excited for the opportunity to respect, connect, and explore our green spaces with you!
Bridget Jones, Environmental Educator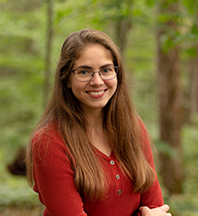 Bridget is currently pursuing a Master's degree in Environmental Studies at SUNY-ESF and holds a B.A. in English from Dickinson College. After graduating college in 2017, Bridget worked as a nature educator in her home state of New Jersey, where she discovered a passion for teaching. Bridget traces her love of nature back to exploring parks and trails with her family as a child,
and a
s an Environmental Educator, she is excited to help people of all ages connect with each other and with the natural spaces of Baltimore Woods. Outside of work, Bridget can be found birdwatching, hiking, drawing, and reading books from her favorite genre, science fiction.
Stacy Drake, Marketer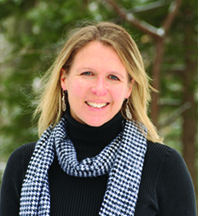 A native of Central New York, Stacy returned to the area after many years of traveling with her Navy husband. She is the mom of three growing children. She holds an MBA from St. Joseph's University and a BA in English/Communications from Le Moyne College.She is passionate about the arts, a steward of the planet, and a staunch believer in the Golden Rule.
Sue Jones, Office Manager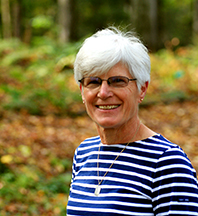 Office Manager for Baltimore Woods since 2011, Sue Jones enjoys welcoming visitors to The Woods, both young and old, and working with our many wonderful volunteers. When she is not at The Woods, Sue enjoys walking her dog, kayaking,  working in her garden, and spending time with her grandchildren.  A  graduate  of Wells College, Sue serves on the Tree Committee for the Village of Skaneateles and is a big fan of farmers markets.