Whitney Lash-Marshall, Executive Director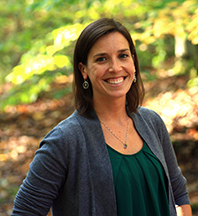 Whitney joins The Woods after several years of teaching and conducting research in the fields of conservation. She holds a Ph.D. in Environmental and Natural Resource Policy from SUNY-ESF. Growing up in Western New York, Whitney was an early explorer of all things outdoors and over the years has continued to connect with the environment through her work as a science educator, camp counselor, and naturalist.  A firm believer in the "hands-on, minds-on" model of connecting people to nature, she is excited to work with the Baltimore Woods community to promote the true power of place right here at home in Central New York. Whitney is an avid volleyball player, hiker, and traveler and looks forward to meeting you at The Woods!
Tom Meier, Camp Director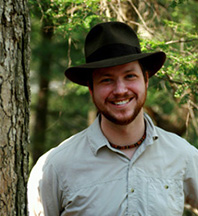 Tom graduated from SUNY-ESF in 2001 with a BS in Environmental Forest Biology and Forest Resources Management. He has been a counselor, naturalist, and director at various Boy Scout and Environmental Education camps for the past 20 years. Tom has many hobbies and skills, chief among them are playing banjo, guitar and mandolin, nature photography, and fly fishing. He spent his childhood playing in the woods, fishing in farm ponds, skipping rocks, building forts, camping, backpacking, and forming a deep connection to the natural world. As Camp Director at Baltimore Woods since 2007, he has been passionate about providing those same opportunities for hundreds of local children as they play and discover and build their own nature connections.
Becky Wilson, Education Manager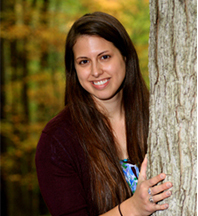 Becky graduated in 2008 from SUNY ESF with a Bachelor of Science in Natural History and Interpretation. She has been working at Baltimore Woods Nature Center since 2010 and is passionate about connecting children to nature. Becky loves spending time hiking and camping with her husband and two sons, Sage and Reed. She enjoys sharing her love of nature with her boys and is inspired by their awe and wonder of the world around them.
Fran Lawlor, Land Manager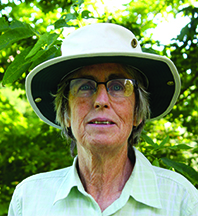 Fran Lawlor comes to Baltimore Woods as a former stewardship ecologist for The Nature Conservancy and a natural resources educator with Cornell Cooperative Extension. She has an M.S. in Plant Ecology from SUNY-ESF and extensive experience working with volunteers in tree care and invasive plant control. For Fran, the spirit of the woods and streams and the diversity of habitats, creatures and topography at the Woods are a perfect place for children and adults any time of year. Her children were campers almost 30 years ago and they look forward to their children's time to be campers, as well.  Fran is an incurable vegetable gardener and loves to eat. She and her husband live on the land where Fran was born in the town of Onondaga where they snowshoe, pick wild berries with their grandchildren and grow hops for Griffin Hill Farm Brewery on the home farm
Alexandra Grove, Environmental Educator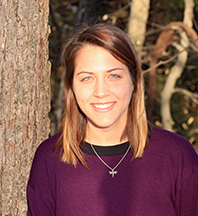 Lexi
 graduated from SUNY-ESF in 2018 with a B.S. in Environmental Biology. She grew up on an apple farm, where she was able to explore, play, and forge lasting connections with the environment. 
Lexi
 hopes to create opportunities for all ages to enjoy nature, both at The Woods and through the Nature in the City program. She is always learning from those around her and loves sharing memories of experiences in nature. 
Lexi
 likes to cook with her family, put her nose in a good book, or go on a grand adventure in her spare time.
Emily Overstrom, Environmental Educator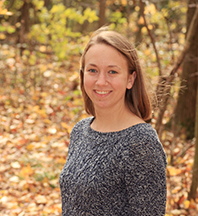 Emily graduated from SUNY-ESF in 2017 with a B.S. in Environmental Studies. Growing up in the Finger Lakes region of New York, Emily explored and created lasting memories of the unique natural wonders in this area. Spending time around lakes, rivers, and waterfalls ignited Emily's passion for the natural world. Emily looks forward to connecting people of all ages to the nature around them, whether it be in a city or in the woods. In her spare time Emily enjoys finding new hiking trails, doing yoga, and reading. 
Eliza Phillips, Environmental Educator
Eliza graduated from SUNY-ESF in 2019 with a B.S. in Environmental Education and Interpretation. Growing up outside on a small beef farm gave her the chance to explore and learn about the environment around her. Eliza is looking forward to helping other kids have similar experiences learning and playing outside. In her spare time she loves to paddle, hike, and compete in lumberjack shows across the northeast.
Melissa Kirby, Environmental Educator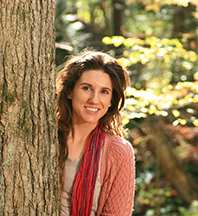 Melissa graduated from SUNY- ESF in 2016 with a BS in Environmental Biology. Her love for the natural world has fueled the passion to help others connect to nature in a personal way and see the beauty all around us.  In her spare time you'll find her exploring in the woods, probably looking for interesting fungi and wild edible plants.  Melissa loves working with children, encouraging their natural curiosity and sense of wonder with the outdoors. She is excited to be part of the Baltimore Woods community.
Stacy Drake, Marketer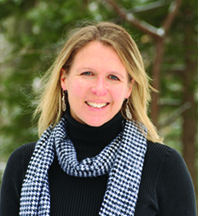 A native of Central New York, Stacy returned to the area after many years of traveling with her Navy husband. She is the mom of three growing children. She holds an MBA from St. Joseph's University and a BA in English/Communications from Le Moyne College.She is passionate about the arts, a steward of the planet, and a staunch believer in the Golden Rule.
Sue Jones, Office Manager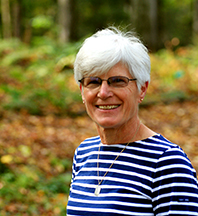 Office Manager for Baltimore Woods since 2011, Sue Jones enjoys welcoming visitors to The Woods, both young and old, and working with our many wonderful volunteers. When she is not at The Woods, Sue enjoys walking her dog, kayaking,  working in her garden, and spending time with her grandchildren.  A  graduate  of Wells College, Sue serves on the Tree Committee for the Village of Skaneateles and is a big fan of farmers markets.
Gaetane Perreault, Bookkeeper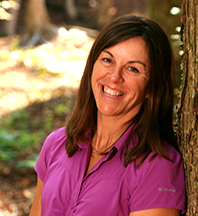 A native of Quebec, Gaetane moved to New York State in 1989 to follow her American husband. She studied accounting at Jefferson Community College and Empire State College.  She is an avid cross country skier, hiker, and cyclist. She is an animal lover and has rescued many dogs and cats over the years. An outdoor enthusiast, she loves hiking at The Woods in all seasons of the year!