Stewardship Work Days at Baltimore Woods
Special Volunteer Opportunities! 

Come be a part of our stewardship work teams at Baltimore Woods this summer and help us preserve the preserve for all to enjoy!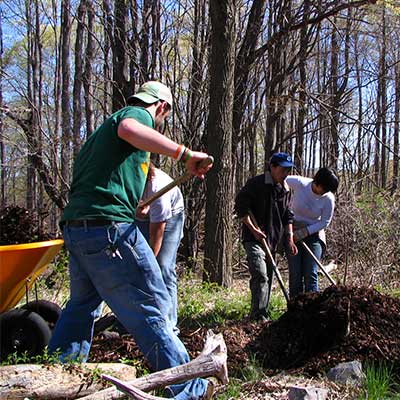 Trail Stewardship Work Day
July 31, 2021, 9am – 12pm
Ever wonder what goes into maintaining a trail or how trails are designed to ensure they stay usable throughout their lifetime? This is your opportunity to learn all about trail maintenance during a hands-on volunteer work day. Join Land Steward David DuBois for a morning of teamwork that will include installing check steps and establishing drainage structures. No matter what your experience with trail building is, come out to Baltimore Woods and learn what goes into making a trail! Note: Work will use swinging tools including mattocks, picks, Pulaskis, and rock bars.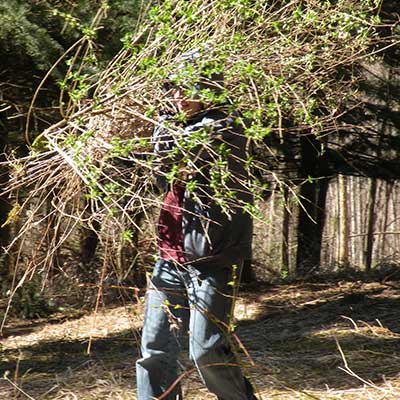 Invasive Species Work Day
August 14, 2021, 9am – 12pm
 Invasive plants can disrupt ecosystems and degrade a landscape. At The Woods we manage a number of invasive species to improve diversity and ensure the sustainability of our ecological communities. Join Land Steward David DuBois in removing invasive shrubs Asian Honeysuckle, Common Buckthorn, and Multiflora Rose from successional habitats. Learn about the history of these species, their effects as an invasive species, how to identify these pernicious plants, and help prevent their spread at Baltimore Woods. No previous experience identifying plants or controlling invasives is required.
The Details: Participants should wear long pants, close-toed shoes, work gloves, bring an appropriate amount of water, and be prepared to work. Work can be somewhat strenuous at times. Masks must be worn when you cannot socially distance 6' from people outside of your household (and during this work especially rock moving that will be the case). Heavy rain will postpone the work day. This program is for ages 14 and up.  Participants 14-18 years old must be accompanied by an adult. Participants should plan to meet the Land Steward in the main parking at the start of the work day.