Nature in the City Goes Virtual
by Emily Overstrom, Environmental Educator
As a nature center, Baltimore Woods knows all about how animals adapt to change, and this spring, the education team has found its own way to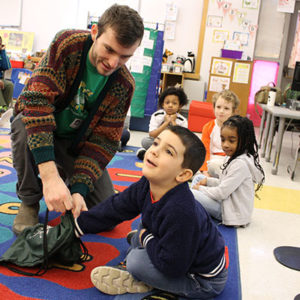 adapt to the global pandemic and the transition to stay-at-home learning for elementary students in Syracuse. With the launch of a series of virtual natural science lessons, Baltimore Woods' urban education program, Nature in the City, is ensuring that students have continued to receive engaging science lessons and stay connected to nature just outside their own front doors.
As schools transitioned to online learning in March due to COVID-19, the Baltimore Woods Nature Center education team jumped into action, providing take-home activity handouts for all K-6th grade teachers across the 19 Syracuse City School District elementary schools the program serves. In addition, they began to develop, produce, and share pre-recorded video content to support lessons and coordinate with teachers to help them complete their school year with a live Nature in the City lesson virtually.
Over the final weeks of the school year, Baltimore Woods educators teamed up with Syracuse City School District elementary teachers to join their students in online classrooms. Kindergarteners explored how to tell if something is alive or not, including a surprise visit from our box turtle, Geronimo, and second graders soared as they learned all about birds. Through an ongoing partnership with Onondaga County Save the Rain, the education team was also able to transform the third grade lesson series into virtual field trips, including a visit to Phillips Pond in Marcellus and Furnace Brook in Elmwood Park to learn about aquatic macroinvertebrates and their role as water quality indicators.
Watch a clip of our educators teaching a virtual Nature in the City lesson!