Nature Indoors and Out!
Whether you look for it outside on our six miles of trails or inside in our Interpretive Center with its art gallery, gift shop, Discovery Library for kids, and Large Program Room, Nature abounds at Baltimore Woods. Visit us soon!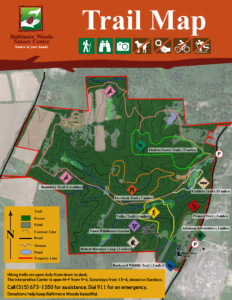 The Trail System
Covering a distance of six miles, the Baltimore Woods site and system of nine trails is open to the public every day. Baltimore Woods site is owned by the Central New York Land Trust, a local land trust who contracts with Baltimore Woods Nature Center for management, utilization, and maintenance of the 182-acre property. Visitors may pick-up trail maps at the Interpretive Center and at the outdoor kiosk. We ask visitors to sign-in at the outdoor kiosks for two reasons: first, for safety, and second, so we can track how many visitors we have each year. This is especially important when it comes to securing funding for Baltimore Woods.
You can download a basic trail map by clicking the top button on the left. If you click the Georeferenced Map button, you can  use our new georeferenced map with the Avenza Maps app on your mobile device to help you navigate the trails using your phone's GPS. Avenza Maps is available on iOS and Android in your app store. To install our map in the app, follow these easy steps:
1. Download the georeferenced map to your mobile device or save it in your cloud storage
2. Click the "+" icon on the "My Maps" screen in Avenza Maps.
4. Once you've located the saved map file, touch it to add a check mark, then click "Import"
5. The map will appear on your "My Maps" list, just open it up and start hiking!
The Interpretive Center
The John A. Weeks Interpretive Center is open Monday through Friday from 9am-4pm, Saturdays from 10am-4pm, and closed on Sundays. Visitors will find our Discovery Library for children, the art gallery, large program room for programs and events as well as our gift shop, restrooms and drinking fountain located there. A wide back deck provides a quiet spot to view backyard wildlife.
NOTICE: Currently, due to the COVID-19 health crisis, the Interpretive Center is closed. Our trails continue to be open at this time. Please adhere to the current social distancing (stay 6 feet away from others) policy and watch for updates on our website. We are a dog-free preserve and ask you to refrain from bringing pets on our trails. Thank you for helping us continue to offer a place where people of all ages can enjoy nature!
What can you do at Baltimore Woods?
Take a hike

Observe wildlife

Learn about wildflowers

Attend a program

Browse the art gallery

Catch a frog with our educators

Attend a fundraising event

Become a Little Naturalist

Read a book

Put on a puppet show

Celebrate a birthday

Hold a workshop or retreat

Enjoy a picnic