Nature Inspires Art
Guests to Baltimore Woods have a unique opportunity to enjoy nature both outside and inside.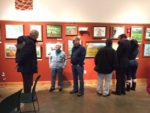 The Baltimore Woods Art Gallery celebrates nature from a variety of artistic perspectives with five distinct exhibits each year, September through May. The gallery is located in the Large Program Room in our Interpretive Center and is open to the public during operating hours with no admission charge.
With the exception of the Student Art Exhibit which is held in May, all of the artwork is for sale. A portion of the proceeds raised from the sale of artwork goes to support the mission of nature education at Baltimore Woods Nature Center. For more information about the gallery, contact the gallery coordinator, Karen Jean Smith, at gallerycoordinator@baltimorewoods.org.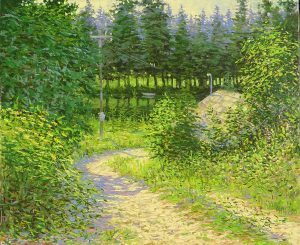 "Split Rock Road"
Saranac Lake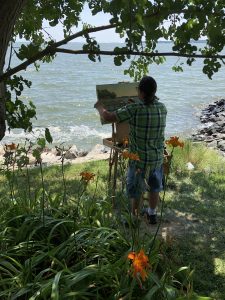 En Plein Air Artist
Nikolay Mikushkin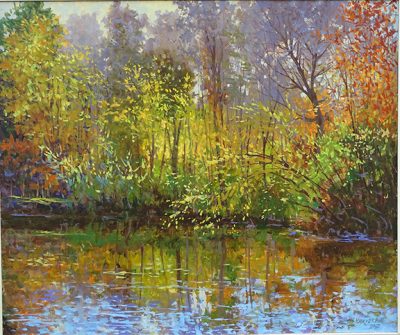 Nikolay Mikushkin: En Plein Air
September 6 – October 25
Public Reception: September 7, 2-4pm
About the Exhibit:

 
Colorful reflections in peaceful waters. Forested landscapes in all their complexity. Flowers growing in abundance. Familiar scenes beautifully, yet freshly interpreted. This is what awaits viewers to the new exhibit at Baltimore Woods Nature Center.
"The nature has always been my calling. I find that it is completely inescapable," states Nikolay Mikushkin. Indeed, he is fascinated with rural environments and especially enjoys the Finger Lakes region where he is surrounded by beautiful lakes, rivers and waterfalls. Here he captures in oil paint the stunning seasons of Central New York. Additionally, journeys to the Adirondacks in the fall often provide inspiration for woodland scenes as well.
Mikushkin describes himself as a "plein air" landscape artist, meaning that he paints outdoors, gathering information directly from the beauty around him including nuances with light, color, and shadow that might otherwise be lost in the confines of a studio. For more details about the exhibit and the artist, click here.
Drawing on Talent 
Member-Artist Show
November 1 – December 21 
Artist Reception: November 2
Previously in the Gallery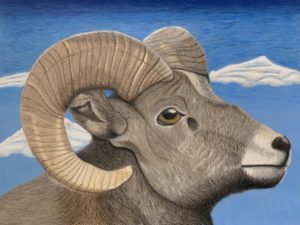 Student Art Show
Local Student Art Showcase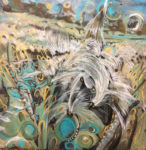 "Backyard Serengeti"
by Ellen Haffar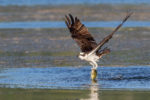 "Uncommon Views"
by Jack Kurz
Drawing on Talent
Member-Artist Show