Week of March 27, 2022 – April 2, 2022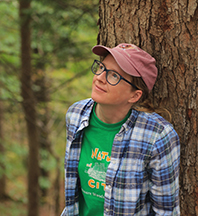 by Anna Stunkel, Environmental Educator
Signs of spring are slowly and subtly making an appearance here at Baltimore Woods, and this reawakening is one of my very favorite times of year. Along with opening buds, flowing sap, and migrating birds, the return of insects and other invertebrates is a special part of early spring.
During recent warm days, I've enjoyed slowing down to observe these tiny communities awakening. Walking along the trails, I came across a small sapling that was coated in sap. A plethora of flies and wasps were perched on the trunk, drinking the sugary treat. I marveled at the diversity of shapes, sizes, and colors as these insects stopped by for a snack. Flies are an underappreciated group of insects. They play important ecological roles such as pollinating plants and cleaning up waste and decaying organic matter.
In Baltimore Brook, I came across the tiny shapes of mayfly nymphs swimming along with the rushing, bubbling water. Taking a closer look, it was amazing to see the mottled patterns on one of these insects.
Mourning Cloak butterflies are also starting to emerge from their hibernation, and I've noticed a few of them fluttering around the forests and sunning themselves. While exploring the woods with Trail School, we also came across a boldly patterned Wooly Bear caterpillar. Insects such as beetle larvae are becoming more active under logs as well.
As the days warm, see what kinds of invertebrates you can find buzzing, fluttering, and crawling around your neighborhood or here at Baltimore Woods. We hope to see you soon!