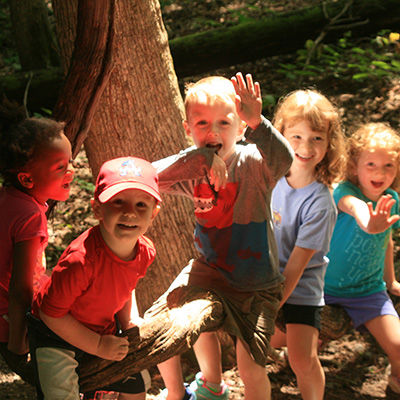 Click here for pricing and more details!
Outdoor Discovery for Little Explorers!

 



Half Day Camp for
Children Ages 4 and 5
Our experienced counselors are caring and dedicated to providing safe adventures for your child. Each day's activities will nurture your child's sense of wonder and connection to the environment, helping them to feel at home in nature. Limited to no more than 8 campers per session, campers will explore Baltimore Woods, learn about the various plants and animals found in the woods, play nature-related games and make nature crafts.
Set off on a half day adventure at one of these Little Explorer Sessions!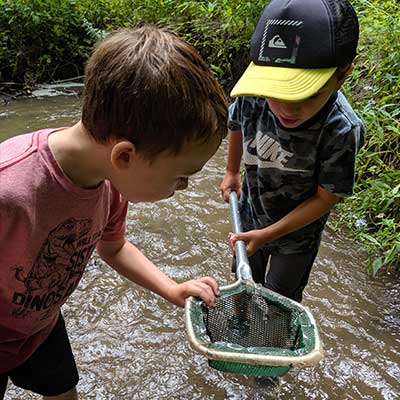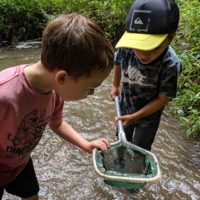 Session 1 – July 10-14
Water, Water, Everywhere! 
Play, discover, and get wonderfully wet this week at The Woods! This week's adventure includes plenty of time exploring our creeks and ponds in search of frogs, crayfish, water bugs, and other friends who love the water. Come check out the pond and streams at Baltimore Woods – it will be a splashing good time!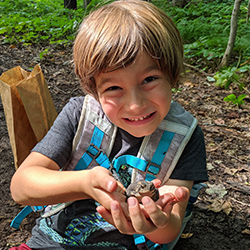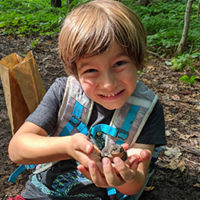 Session 2 – July 17-21
Frogs, Toads, and Salamanders!
Join our amphibian friends for a hoppin' good time at Baltimore Woods. We will spend a week learning and exploring as we search for these camouflaged critters. Where do they live? What do they eat? How are they alike and different? You'll be an amphibian expert by the end of this week!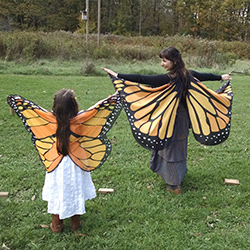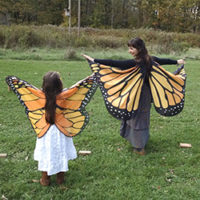 Session 3 – July 24-28
Up, Up, and Away!
Calling all superheroes in training! Ever wanted to fly like a falcon, see in the dark like a fox, or light up like a firefly? Join us as we learn from some of the most amazing animal superheroes in the world. Don't forget to bring your cape and sense of adventure for this super fun week!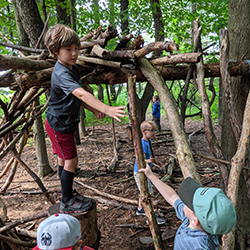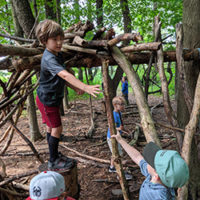 Session 4 – July 31-August 4
Nature's Builders
Calling all budding builders! This week we'll be busy as beavers, birds, and foxes as we hike down to the stream to build beaver dams, weave bird nests in the forest, and dig dens of our very own. Grab your hard hat, your imagination, and let's get building!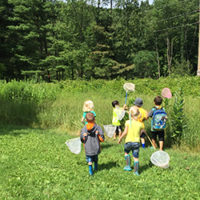 Session 5 – August 7-11
Insect Safari
Bug jar? Check! Butterfly net? Check! Need to explore the outdoors? Check! Sounds like you're all set for a week of adventure as we get up close and personal with the world of insects. We'll race after butterflies and dragonflies, scour the grasses for praying mantis, flip logs for beetles, and search the stream for stoneflies. It's going to be a buggy bonanza!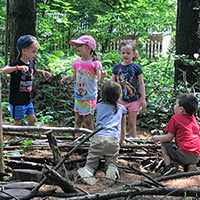 Session 6 – August 14-18
Hundred Acre Baltimore Woods
Whether you're more of a Piglet, Tigger, or Pooh bear, you're sure to have a bouncing good time this week! Learn about Pooh's favorite sticky treat and the bees that make it. Search for Rabbit's underground burrow and Owl's treetop hideout. Create Eeyore's home using sticks and other natural materials. And bring your expedition gear for the great heffalump and woozle hunt!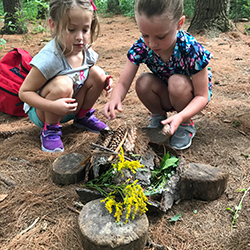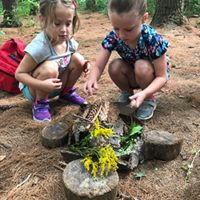 Session 7 – August 21-25
Fairies, Elves and Trolls, Oh My!
We always like a bit of whimsy at The Woods! At camp this week, we'll go out in search of creatures (real and imagined) living out in the woods. Make sure you bring your sense of fantasy along with you, as well as your fairy friends!
Details:
NLE campers  must be 4 years old and fully potty trained.
The camps will be led by Baltimore Woods educators. 
Sessions are themed and campers can attend multiple sessions. 
Camp will begin daily at 9am and end at 12pm. 
Pricing:
$145 per session.
Multiple week and multiple child discounts ($5) are automatically applied when you register. Discounts apply beginning with the second child and/or the second week.