The Nature of Changing
Seasons and 
Habitats 
Week of September 12 – September 18, 2021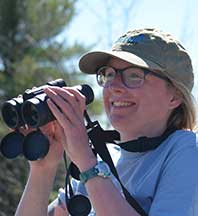 by Anna Stunkel, Naturalist
As the seasons change from summer to fall, I enjoy pausing to observe differences in the landscape and surroundings. Leaves change from green to gold, red, orange, and purple, birds depart southward while a new cast of feathered friends arrives for the winter, and the days and nights gradually become cooler. At this time of year, you may notice migrating birds such as warblers, swallows, and raptors on the move. Many songbirds migrate south during the night, in order to avoid detection by predators such as hawks. Fall wildflowers have also been blooming, including goldenrod and asters.
Here at Baltimore Woods, we've had a chance to witness some intriguing changes in the forest. For example, the recent big storm caused the beaver dam area to become blown out and converted from pond to mud flat. As a result, there has been a change in plant and animal residents. David DuBois, our Land Steward, recently noticed spotted sandpipers foraging and many seedlings bursting through the newly exposed mud. It will be interesting to observe continuing developments in this mudflat habitat.
What kinds of changes have you been noticing as the fall begins? 
To learn more about fall bird migration and to see forecasted and live migration maps, take a look at the BirdCast website.