Outdoor Adventures for
Nature's Little Explorers!
Children Ages 4 & 5 Staff-directed ~ Self-guided
We are sad that we will not be able to host our summer camp for preschoolers this year due to COVID-19, but we are glad to share exciting news with you – Nature's Little Explorers summer camp is going virtual! With the same great weekly themes and daily check-ins with a counselor, your little one will still have the opportunity to learn and explore. Join us for live lessons and interactions with animals, crafts, and daily activities that encourage your child to get outside! They'll have the opportunity to share their discoveries with their counselor and fellow campers every morning and spend active time in nature everyday. At the end of the week we'll come together one last time to share our favorite discoveries from our outdoor adventures with a virtual celebration!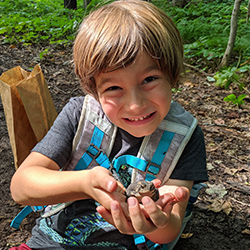 Session 1 – July 6-10
Frogs, Toads, and Salamanders!
Ribbit! Ribbit! Spend the week with counselor Lexi learning all about our slippery friends through live virtual interactions and daily activities. Whether it's a life cycle craft or getting outside to search for amphibians, we'll have a hopping good time together!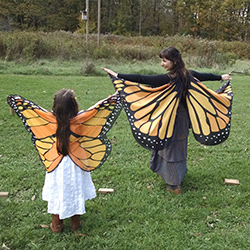 Session 2 – July 13-17
Up, Up, and Away!
Calling all superheroes in training! What do birds, bugs, bats, squirrels, and superheroes have in common? Flight! Come join counselor Eliza for a virtual week where we will learn from the best fliers in the world. Each day we will explore how different animals use their super power of flight by making flying bats, watching butterflies, making kites and more! Don't forget your wings, cape, and sense of adventure!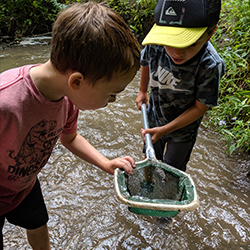 Session 3 – July 20-24
Water, Water, Everywhere!
Play, discover, and get wonderfully wet during a week of water exploration! This week's adventures will include virtual encounters with animal friends that love the water, finding water near your home, and so much more. Join counselor Emily for a splashing good time!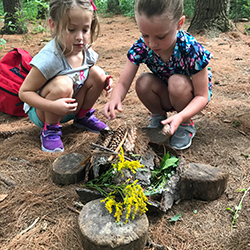 Session 4 – July 27 – July 31
Fairies, Elves, and Trolls, Oh My!
We always like a bit of whimsy in our lives! This week, counselor Emily will be your guide as you go out in search of creatures (real and imagined), make your own fairy homes, and feel enchanted by the magic around us. Make sure you bring your sense of fantasy and your fairy friends  along with you!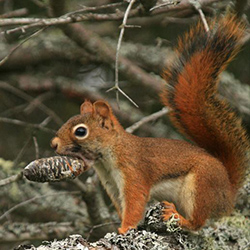 Session 5 – August 3-7
Squirrels, Rabbits, and Foxes, Oh Deer!
Mammals leave evidence of their adventures, we just have to know what to look for. Each day counselor Lexi will help you learn about different mammals that live in our neighborhoods, what they need to survive, and what evidence they leave behind. What will we find on our trail cameras? Will we find tracks in the mud by a stream? Find out during mammals week!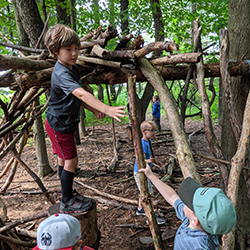 Session 6 – August 10-14
Nature's Builders
Calling all budding builders! This week you and counselor Emily will  be busy as beavers, birds, and foxes with activities, crafts, and games to help us create and build just like our animal friends. Grab your hard hat, your imagination, and let's get building!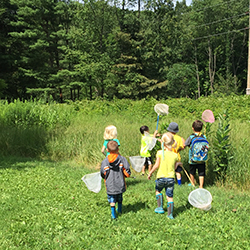 Session 7 – August 17-21
Insect Safari
Do you have a bug jar or butterfly net? Are you ready to explore the outdoors? Sounds like you're all set for a week of adventure with counselor Eliza as we get up close and personal with the world of insects. We'll race after butterflies and dragonflies, scour the grass for praying mantises, flip logs for beetles, search the stream for stoneflies, and then come together and share what we found. It's going to be a buggy bonanza!
What can you expect when you sign for Outdoor Adventures Nature Camp?
The week before your camp starts, you will receive a

packet containing activities, craft guides, and interactive handouts

to help guide 1-2 hours of nature play and exploration each day. You can have this packet provided electronically, mailed to your home, or picked up directly at Baltimore Woods Nature Center. 

Each day a morning meeting starts at 9am with your counselor and camp group!

You'll check in with your counselor and camp friends, enjoy a short lesson or demonstration (which can include live animals or a virtual visit to Baltimore Woods) as an introduction to the day and kick-off to the activities you'll work on at home. As the week goes on, we'll also talk about the adventures you've had working on the activities and provide opportunities for each camper to share what they have seen and found. 

If your camper has an exciting discovery or story to share (or you have a question for the counselor)

you can check-in with your counselor via zoom and email

during designated times during the day! 

Finally, if you have an avid explorer who gets through their daily activities quickly and is looking for more,

your camp group will have access to an online folder of additional activities

to do at home, walking in your neighborhood, or visiting a park like Baltimore Woods!
Pricing:
$100 per session for Nature's Little Explorers Camps.
Multiple week and multiple child discounts are applied when you register. Discounts apply beginning with the second child and/or the second week.
All camp families must have a Baltimore Woods Nature Center Family Membership ($40) to attend camp, active both when you register and when your child attends camp. A family membership can be purchased or renewed at registration.