Week of March 5, 2023 – March 11, 2023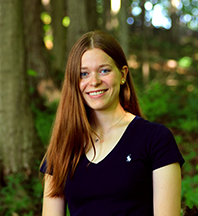 by Elizabeth Suzedell , Environmental Educator
One evening about a month ago, I saw a huge flock of big, white birds flying around above a distant field. They were snow geese, who are winter visitors to Central New York. I decided to head over in their direction. As I got closer, I saw that there were hundreds of snow geese landing in a bare cornfield. I pulled off on the other side of the road, turned off my car, grabbed my binoculars, and quietly observed these birds. I watched some of them circle around, seeming indecisive about when or where they wanted to land. Others were ravenously eating the old corn stalks to refuel after the long day. Their squeaky honking calls were quite noisy, but it would soon start to become almost blaring.
I watched as a large flock of close to a thousand snow geese arrived to take a break here too. I thought that was such a magical sight, but it only got more amazing from there. Every couple of minutes, a new flock would appear above the distant treeline with several hundred snow geese. After an hour of observing flock after flock arrive here, there were at least ten-thousand snow geese in the field! While this was an incredible number to me at that time, in the marshes at the nearby Montezuma National Wildlife Refuge, there are sometimes flocks of a few hundred-thousand snow geese!
Snow geese are birds in the family Anatidae, which includes geese, ducks, and swans. They are a little smaller than the more common Canada geese, and are mostly white with black wingtips. Some snow geese are "blue morphs," so they have a dark grayish-blue body. They are currently moving through our region as they migrate back up to the high arctic regions of Canada, where they breed and stay for the summer.
I've been seeing lots of snow geese fly over Baltimore Woods almost every day for the past two weeks. It's been so special for me to see these creatures, especially since I never saw them where I grew up. Unfortunately, they won't be around our area for much longer. By the end of March, most of the snow geese will have migrated north. However, they will be back in the fall, and the migration of snow geese and other birds is one of the first real signs that spring is almost here!