Week of February 26, 2023 – March 4, 2023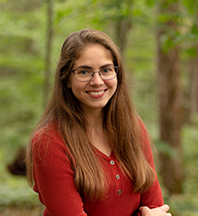 by Bridget Jones , Environmental Educator
This week, students from across the Syracuse area came to Baltimore Woods for Winter Break Camp. At the heart of the camp experience is the chance to learn about nature through free play and exploration. As an Environmental Educator and camp counselor, I love seeing the campers experience moments of discovery and connection with nature. For this week's Naturalist Blog, we wanted to bring some of these moments to you from the perspective of the campers by asking them about their favorite parts of Winter Break Camp.
Favorite place: The Gravel Pit
When asked about their favorite place at Baltimore Woods, many campers this week had a similar response: the Gravel Pit, a unique area on the newest 90 acres of the preserve. Once a gravel mine, this special place now features rolling hills, patches of regenerating forest, and shallow ponds, offering endless opportunities for exploration. During a game of hide and seek, one camper was fascinated after finding a hibernating frog, leading to a discussion of how frogs survive the winter. Later on, the Gravel Pit's wide open sky provided a view of a huge flock of snow geese directly overhead!
Favorite experience: Capture the Flag
For many campers, the most exciting experience of Winter Break Camp was a camp-wide game of Capture the Flag! During the last two days of camp, each camp group hid three flags in the woods and embarked on a hunt to find the other team's flags. Campers worked together to decide where to hide their flags and come up with strategies for finding the flags. With the new snowfall on Friday, campers had the idea to track their opponents' footprints to their hiding places. However, they quickly realized the other team had left misleading tracks to throw them off! The campers' journeys took them off the trails, up and down hills, and into secluded spots of Baltimore Woods. The day ended in a tie with each team finding two flags, and everyone making lots of memories along the way.
For campers, learning experiences in nature can happen in any place, at any time throughout the camp day. Whether discovering a strange fungus growing on a log, playing games with friends, or spotting a mink bounding by on the trail, ordinary moments can turn into experiences that campers remember for years to come. If you were ever a camper as a child, what were some of your favorite memories?