Summer Memories
Week of December 26, 2021 – January 1, 2022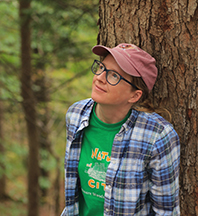 by Anna Stunkel, Environmental Educator
As winter's chill sets in, there is plenty of beauty to enjoy, like the intricate patterns of frost on the windows or the quiet hush after darkness settles in on top of a snowy landscape. Some activity out in nature slows down with the cold, and along with it, winter can be a nice time to pause and reflect on memories from earlier in the year.
While winter is a wonderful season, I often find myself missing some of the familiar creatures who can be found in the warmer months. Last summer, the campers and I were delighted in finding toads along the trails. Hikes were often punctuated with campers' happy exclamations of, "look, a toad!!" American Toads have incredible variation in their colors and patterns, from rufous reds to more subtle browns. During summer camp, it was fun to think of the toads as fellow travelers along the trail stopping by (or hopping by) to say hello. You never knew exactly when or where you might come across them.
Encountering toads is just one of my favorite things about summer. Others include fireflies dancing through the night sky, Indigo Buntings singing in the fields, Ebony Jewelwing damselflies fluttering around the brooks and resting in the sun, beautifully patterned moths visiting porch lights, fawns bounding through the forest, and brilliant yellow goldenrod blooming.
What are some of your favorite memories from summer or other warmer times of the year? If you'd like to share, we'd love to hear from you at [email protected]