A New Hike for the New Year
Week of January 2, 2022 – January 8, 2022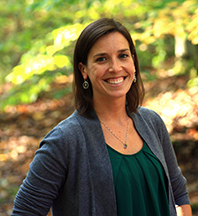 by Whitney Lash-Marshall, Executive Director
We all have our own favorite ways to welcome in a New Year, and one of our favorite traditions at Baltimore Woods is to head out on a staff hike in the early days of the New Year to spend time connecting to nature and each other. As we walk, we point things out to each other that we might see, or share a memory of a past program that took place in a certain location, and explore how each of our senses are reacting to the season. 
One year, we had to push through knee-deep snow down the Valley Trail, and at the bottom flopped down to make some spontaneous snow angels and look at the patterns of snow stacked in the evergreens. Another year there wasn't as much snow, so we were able to search for birds and share knowledge of flora and fauna all along the Boundary Trail. Some years the sun is shining, highlighting the many tracks of squirrels, mink, and fox in crystallized form along the Overlook Trail and other years the snow is falling, once even making the perfect conditions for the kid inside each of us to take an otter slide down a pathway laughing and smiling. What will this year's hike bring? 
The amount of snow always varies, but the joy of kicking off a new year of outdoor exploration is always the same. As we walk into a new year together, I invite you to take a hike without an agenda; just let nature be your guide. Share your New Year's hike story with us at [email protected] and watch for our story coming up soon!