Science and Fun Rolled into One!

 



Scientific Explorations for
Children Ages 5 to 13
These monthly series programs offer hands-on experiences in nature to supplement your science curriculum. Every Tuesday, we'll meet up for a three hour program packed with experiments, activities, and outdoor exploration. Rain, snow, or sunshine – we will happily go outside! Themed sessions are listed below.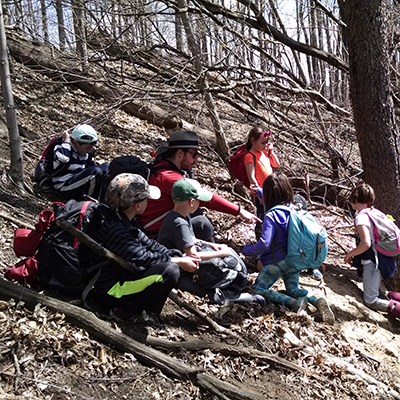 Changing Seasons
September 13 – 27
3 Tuesdays, 1:00 – 4:00pm
$48 members; $69 public
Summer turning to fall affects every living thing in the forest. This month, let's discover some of the science behind the changing seasons: Why does it happen? How do trees know when to drop their leaves? How do birds know where to go in the fall? What happens to the butterflies? So many questions!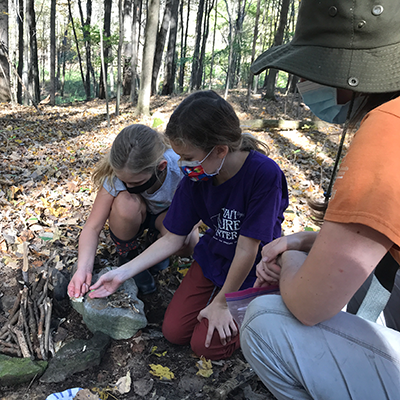 Wilderness Skills
October 4 – 25
4 Tuesdays, 1:00 – 4:00pm
$64 members; $92 public
The people that lived in Central New York 200 years ago and more had some impressive skills to help them with daily life before cars, heated buildings, and electric stoves. Let's see if we can rediscover some of these skills and learn about the science behind why they work. From building fires to herbal remedies, the knowledge of the past gives us perspective for today.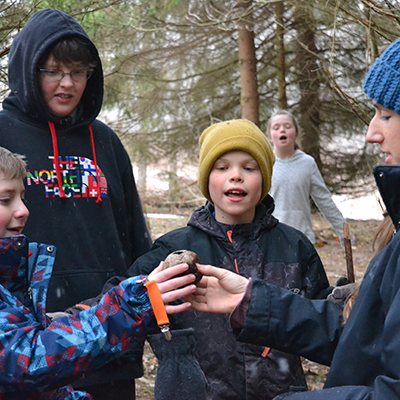 Yuckology 101
November 1 – 29
5 Tuesdays, 1:00 – 4:00pm
$80 members; $115 public
Time to yum your yuck! Do you know why swamps stink? Or where dead things go? Just what is a slime mold, anyway? If it's slimy, squishy, smelly, rotten, or just plain weird – we'll poke a stick at it and learn to understand how yucky stuff works and why it's actually pretty cool.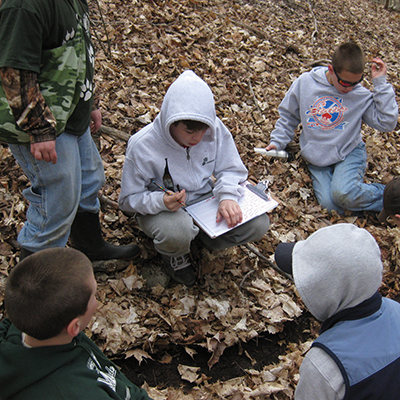 Nature's Innovators
December 6 – 20
3 Tuesdays, 1:00 – 4:00pm
$48 members; $69 public
With the changing season there are many plant and animal innovators out on the preserve getting ready to survive the winter. This month we'll explore how these plants and animals adapt to survive the season to come and we'll step into their shoes engaging in activities and games that test out our abilities to adapt to winter as well.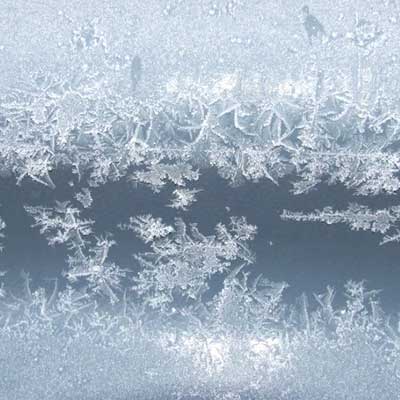 Snow Science
January 10 – 31
4 Tuesdays, 1:00 – 4:00pm
$64 members; $92 public
Did you know there are 35 different types of snowflakes? Or that the white fluffy drifts are made up of tiny, sharp, pointy needles? Snow is so cool – let's wander the winter woods in search of snow science!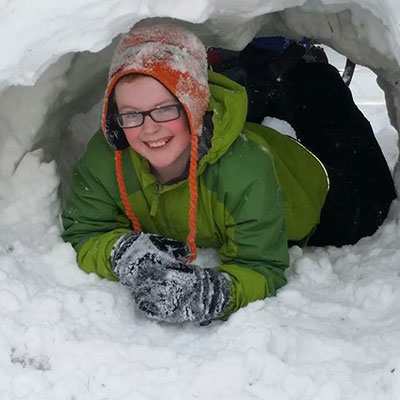 Winter Survival
February 7 – 28 (no program on February 21)
3 Tuesdays, 1:00 – 4:00pm
$48 members; $69 public
During the winter season organisms out on the preserve are honed in on survival. They know how to get their food, water, and shelter. This month we'll learn some survival tricks from our wildlife friends and experiment with how humans can survive outside in the elements.
Trees!
March 7 – 28
4 Tuesdays, 1:00 – 4:00pm
$64 members; $92 public
Trees are guardians, homes, and storytellers of the forest. As trees awaken from their winter slumber, the forest revels in the emergence of spring. Join us as we meet the trees of Baltimore Woods, explore their stories, and learn about their entangled relationships with other organisms.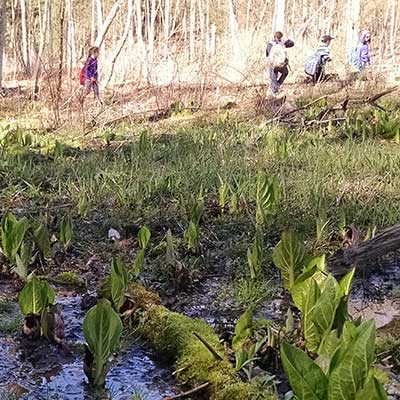 Emerging Life
April 5 – 26 (no program on April 12)
3 Tuesdays, 1:00 – 4:00pm
$48 members; $69 public
April brings new life after the long winter. Amphibians are on the move, plants are growing, and the Woods are bursting with places to explore! Join us for games, activities, and experiments that celebrate and illuminate the life emerging in Spring.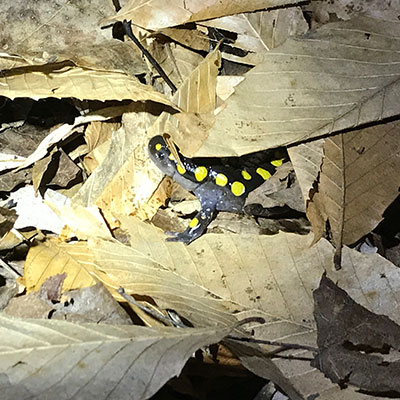 Marvelous Migration
May 2 – 30
5 Tuesdays, 1:00 – 4:00pm
$80 members; $115 public
Spring is an exciting time to observe migrating animals as they fly, hop, and swim along their epic journeys. This month, we will welcome birds who are flying northwards to nest, look for amphibians as they prepare to lay eggs, and learn all about the fascinating feats of animal migration.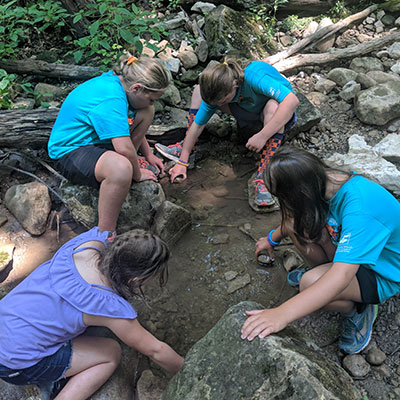 Water Adventures
June 6 – 20
3 Tuesdays, 1:00 – 4:00pm
$48 members; $69 public
Let's explore the living organisms that live in and around our water sources at Baltimore Woods. From our streams to the pond, join us for activities and games that will teach us about the science behind why all living things need water to survive.
This program is planned to be entirely outdoors, so please dress for the weather. Lessons are suited for ages 5-13. Students must pre-register for the entire month. Adults are encouraged, but not required to join the group, and must stay on-site during the program. An indoor workspace with wifi is available, if needed. Bring a water bottle and a small snack. At Baltimore Woods Nature Center, the health and safety of our staff and visitors is of utmost importance. All in-person programming will follow best practices for keeping our participants safe, including health screenings, physical distancing and wearing facial coverings.
Multiple child discounts ($5) are automatically applied when you register. Discounts apply beginning with the second child.
A membership discount is available. Members receive discounted prices on our programs, as well as discounts in our gift shop and early notice of upcoming programs and events, including summer camp registration opening dates. Purchasing a single, one-year, family-level membership during your registration process will allow you to save on all programs you and your family members register for! You can purchase a membership while registering for your programs, or through our website. For more information on memberships, click here.