Week of April 10, 2022 – April 16, 2022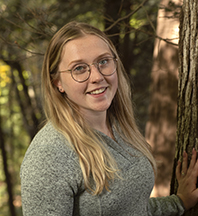 by Meghan Morral, Environmental Educator
As we get further into Spring, April has certainly begun to live up to its reputation of rainstorms and rapidly changing weather patterns. Some days even seem like all four seasons make an appearance within a 24-hour time span. If one thing is certain, it's that Spring is an unpredictable time of year!
But that doesn't mean Spring doesn't have its own special traditions. Every April, insects start to reappear, early wildflowers begin to bloom, amphibians make their great migration, robins come back to forage in muddy lawns, skunk cabbage emerges from the soil, and tree buds begin to open. Every day the sun will still rise and fall, and the critters that run through the woods at night will leave muddy footprints on the trail in the morning.
Picking up on patterns like these always leaves me with a childlike excitement, watching and waiting for the changing displays in nature. Even in unpredictable seasons, begin to notice the patterns that take place year after year. Notice the changes happening in your favorite nature spots, and think ahead to all the wonderful transitions that are sure to happen very shortly.
And don't forget: April showers bring May flowers! So get outside and enjoy the rain while you can while still getting excited for the beautiful wildflowers that will be here before you know it.