Origins of a Conservationist
by Rand Michaels, Environmental Educator
As the first week of summer camp begins, I'm excited to think about all the adventures that lie ahead in the next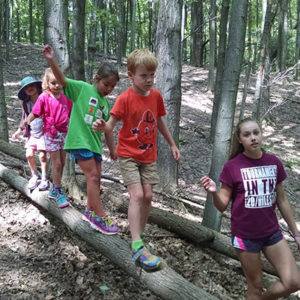 eight weeks – adventures for the campers and for me. Each day will unfold, different than the one before it – with new appreciation for nature, new friendships, and maybe best of all for me, new conversations – a chance for me to teach, inspire, and to grow in my experience as an environmental educator. In the middle of one of our winter nature camp weeks, I was led by a group of fourth graders on a quest to find "The Log". A few of the campers had discovered this site on their previous day of camp, (and were being drawn back by the excellent otter-sliding to be had there) while a few of the others, like me, were along for the ride. We spent the early afternoon trekking up and down the hills of the preserve until we at last discovered our destination. "The Log" was a massive fallen beech tree, its light gray, deeply cracked bark punctuated by the dark bracket fungi sprouting from its sides. It had fallen across a slope with enough room underneath for someone to just barely slide through.
The rest of the afternoon was spent enjoying and perfecting the glorious otter-sliding slope that began just uphill of The Log. Before we left the area at the end of the day, I found a moment to talk with some of the campers about The Log's origin story and the living beech tree it once was. Discussing with them the fungi growing on it, and the potential contributors to its demise- namely beech bark disease, caused by an invasive insect and fungus- was one of the highlights of the day for me. As we hiked back to the nature center, some of the campers pointed out other beech trees whose bark showed cracks distinctive to the disease and asked me questions like "why do trees get so many diseases?". As I tried to field these questions, I considered one of the perennial questions I ask myself as an environmental educator. How do I balance encouraging people to enjoy the natural world with informing them about the threats that it faces?
As a nature center, we realize the precious opportunity that we have, especially during these weeks spent in the woods with campers, to inspire young people to grow into responsible stewards of the natural world. Questions like this, developed from firsthand experience in nature can lead eventually to working to conserve it- whether that means coming back to camp as a teen volunteer, planting native trees in partnership with conservation organizations, or any of the other ways that people come together to protect their environment. At Baltimore Woods we are grateful to have the opportunity to witness and support this development.