Week of March 6, 2022 – March 12, 2022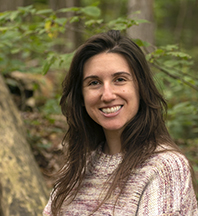 by Melissa Kirby, Environmental Educator
As the calendar shifts from February to March, the movement from winter toward spring might not feel like it's coming fast enough, but each day subtle changes can be observed in nature. Spring is on the move – from birds migrating, plants emerging, snow melting, and sap flowing! This past week I hiked the Arboretum Trail with an animated group of 3-5 year olds as part of their afternoon Nature's Little Explorers program. Although nature discoveries at Baltimore Woods often happen when children have the opportunity to explore without a specific goal in mind, this little search party was on the hunt for tree treasure! . As we ambled along, the children observed the bark and branches of various trees, peeked into holes, and placed their ears against trunks to see if they could hear anything.
As I placed my hand on the bark of a sugar maple, I shared with the children that I thought this was the tree we are looking for. We decided to drill a hole and about a minute later one of the little explorers pointed out a watery liquid dripping from the hole we created. That was the treasure we were looking for!
The group worked together to place the spile in the tree and hang the bucket. Sure enough, after waiting patiently we all heard the "plink, plink" of sap hitting the bottom of the bucket. Watching the sap slowly drip from the spile was mesmerizing for the children (and adults alike). I can't help but smile when thinking back on the experience. With childlike excitement I can say it's officially maple sugaring time at Baltimore Woods!