Week of May 8, 2022 – May 14, 2022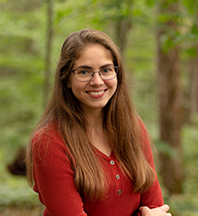 by Bridget Jones, Environmental Educator
April 30th marked the end of the 2021-22 season of Project Feederwatch! Birdwatching, like many other activities in nature, can help us slow down and connect with the world around us. Just as birdwatching can bring healing benefits to humans, through citizen science projects like Project Feederwatch, we can return the favor by contributing to bird conservation efforts.
Throughout the winter at Baltimore Woods, we've been counting the birds visiting our feeders and submitting this valuable data to Project Feederwatch. Watching the feeders every week at Baltimore Woods was a fascinating way to notice the changes happening right outside our windows. We saw lots of regular visitors come to the feeders week after week, like Black-capped Chickadees, White-breasted Nuthatches, Tufted Titmice, and Downy Woodpeckers. The progression of the seasons also brought some new visitors. In January, American Goldfinches and White-throated Sparrows first began to appear, and continued returning for the rest of the season.
One exciting development this season was the arrival of a Cooper's Hawk pair to the trees behind the Interpretive Center in early February. The hawks' arrival changed the dynamic at the feeders considerably. Cooper's Hawks prey on smaller birds, and our feeders provided them with an easy food source. We began noticing fewer birds at our feeders after the Cooper's Hawks moved in, but we gained the opportunity to observe these beautiful raptors up close.
Participating in Project Feederwatch this winter built moments of quiet observation of nature into my weekly routine and helped me connect with the patterns of the seasons. The next Feederwatch season starts in November, but until then, there are so many amazing birds to observe throughout the spring and summer. What birds have you been noticing recently?