Celebrating a Decade of Partnerships
by Whitney Lash-Marshall, Executive Director
As we finish up an exciting 18th year of Nature in the City, we are celebrating the wonderful classroom experiences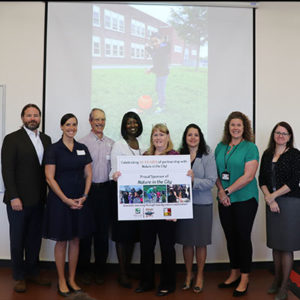 we had and those that helped us deliver them. This year we were lucky enough to recognize ten-year partnerships with five of our Nature in the City sponsors: National Grid, Lockheed Martin, Lockheed Martin Employee Federated Fund, Dominion Energy, and SRC, Inc. We are thrilled that these partners have supported us in providing hands-on/minds-on natural science learning to K-6th grade Syracuse City School District students.
The sponsor for Van Duyn Elementary School, Dominion Energy, shared their perspective on Nature in the City, "We are inspired by the work happening in our neighborhoods and commend Nature in the City for the meaningful service they provide area children. At Dominion Energy, we believe it is up to all of us to champion sustainability."
With the support of sponsors, the Syracuse City School District, and the engagement from the students we are able to reinforce these early connections every year through lessons outside and hands-on activities.