We invite our members to enjoy a weekly blog written by our naturalists. Every blog will be uniquely different but always inspired by nature. We may share a memory from a recent hike at The Woods or teach you about an animal or plant that lives on the preserve. No matter the topic, we will be sharing with you our passion for nature and celebrating the connections we all have to the natural world. Each blog will be connected to a weekly set of activities and ideas to help you put nature in your hands, even if you're at home!
My Little Piece of the Planet 
Week of October 17 – October 23, 2021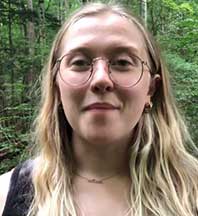 by Meghan Morral, Environmental Education Intern
Walking through my backyard, I notice piles of fall leaves starting to form in nearly the exact same spots as last October. I see the remnants of my garden, the last of my cucumber and pepper plants starting to die off, giving nutrients back to the soil to prepare for new plants in the spring. The two squirrels that live in the oak tree behind my house look much fatter than they did last May, and the lilac tree is starting to lose the last of its yellowing leaves. While it starts to get colder, and summer transitions to winter, I know that soon frost will form tiny crystals on the grass and bright red cardinals at my feeder will show off their striking red feathers against the snow. 
 Getting to know the plants and animals in my backyard has given me a great connection to nature. Part of me thinks the creatures and trees in my yard know me, too, by the way the branches bend down to reach me or how the squirrels screech at me when I come home from work. For me, all the little details create a deep connection to the place I'm in. Wherever you are, get outside and make those connections in your little piece of the planet.