Week of May 7, 2023 – May 13, 2023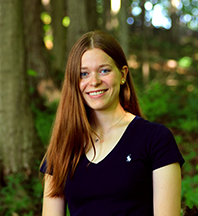 by Elizabeth Suzedell, Environmental Educator
It feels very different at Baltimore Woods than it did just a month ago. The frigid temperatures of winter have passed and long days have returned, bringing warmth and light. As the sun gets higher in the sky, rises earlier, and sets later, life continues to emerge and thrive. There is suddenly so much to discover on a walk outside.
Something I noticed on a walk last week was how green the forest is now. To me, it seems like the leaves on the maple trees appeared overnight. The ground is covered with plants which grow taller and taller every day I see them. Pops of color from the spring ephemerals, like trilliums, and flowering trees, like serviceberries, add to this magic. The woods are so full of life.
Beautiful songs have been filling the air as the birds get ready to nest. American robins, northern cardinals, chickadees, red-winged blackbirds, eastern phoebes, mourning doves, house wrens, and white throated sparrows are some of the birds I've been hearing sing the most recently. New birds who weren't here over the winter keep arriving every week as they migrate back through our area. Before we know it, this spring's chicks will be fledging.
Spring is a special time to go out for a walk in the woods. During this season, I feel a sense of renewal and rejuvenation every time I'm out in the bright and lively forest. What will you discover this spring?