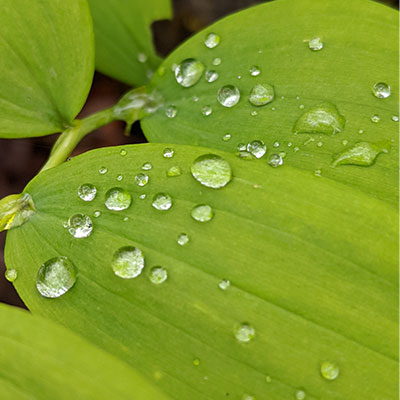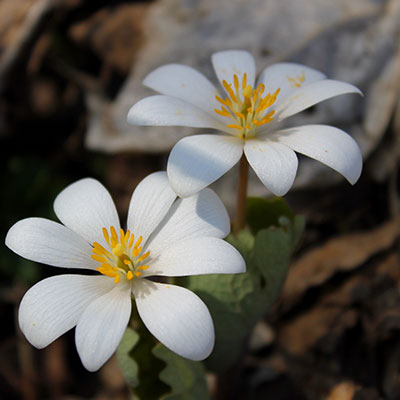 As Vincent Willem Van Gogh said, "…and then, I have nature and art and poetry, and if that is not enough, what is enough?"  Explore nature through poetry. Feeling inspired to write a few words of your own? Share it with us at connect@baltimorewoods.org!
The leaves are fresh after the rain, 
The air is cool and clear, 
The sun is shining warm again, 
The sparrows hopping in the lane 
Are brisk and full of cheer. 
And that is why we dance and play, 
And that is why we sing, 
Calling out in voices gay, 
We will not go to school to-day 
Or learn anything: 
It is a happy thing, I say, 
To be alive on such a day.
Source: https://www.poetrynook.com/poem/april-showers
Here come April showers. 
Here come the last snow flurries. 
The trees are happy and rejuvenating, 
Since the weather is cool; spring 
Is here. Yes, the lilies are blooming. 

Here come the burgeoning flowers. 
The parks have now extended hours. 
The children are roller skating and playing, 
The track and field team is practicing, 
And the dog owners are laughing and strolling. 

Spring is here. The air is brand-new and fresh. 
It rains sporadically. 'Tis the time to stretch 
Our imagination, to enjoy life to the fullest, 
And to renew relationships. This is the best 
Time to charm, chill, relax, pause, and rest. 
Source: https://www.poemhunter.com/hebert-logerie/
The grass is green across the hill,
But yellow blooms the daffodil.
It's sunshine on a little stalk,
A friendly flower, I bet they talk…
Of little kids, too long inside
They burst outdoors to play and hide.
Tracking mud and bringing bugs.
Look, there's footprints on the rug!
Tiny whirlwinds, these little tykes,
They skin their knees while riding bikes.
They rip and roar, they're running wild!
What fun it is to be a child.
It grows warmer every day.
Shoo the children out to play!
Pick the flowers, play in mud.
Too much rain, here comes a flood!
My snowy, winter days are gone.
I mourn them, but I hear a song
Of birds in trees; wind chimes ring.
I guess it might as well be spring!
Published by Family Friend Poems on 04/11/2018
From where I lingered in a lull in March
outside the sugar-house one night for choice,
I called the fireman with a careful voice
And bade him leave the pan and stoke the arch:
'O fireman, give the fire another stoke,
And send more sparks up chimney with the smoke.'
I thought a few might tangle, as they did,
Among bare maple boughs, and in the rare
Hill atmosphere not cease to glow,
And so be added to the moon up there.
The moon, though slight, was moon enough to show
On every tree a bucket with a lid,
And on black ground a bear-skin rug of snow.
The sparks made no attempt to be the moon.
They were content to figure in the trees
As Leo, Orion, and the Pleiades.
And that was what the boughs were full of soon.
Beautiful fresh purple flowers on a hill
Slowly moving water mill
Clumps of wet frost on the ground
Life is all around
Soft grasses pop out
Flowers sprout
Chirping birds in the woods
Weather is good
Melting mountain has begun
Frosty snow quickly runs
Bright, shiny sky is clear
Sweet, fresh, crispy smell fills the air
Old March is here with us again,
And all are shivering; even the men
Complain of the wind so sharp and chill;
As it comes to greet us from yonder hill.
But the sun shines bright and the sky is clear
And as March must visit us once a year
We gladly welcome it, for we know
That it helps to lessen the drifts of snow.
There are patches now of bare ground to be seen,
And now and then bunches of grass that are green,
And we earnestly listen each sunny morn
For the noisy crow which we hear at dawn.
Yes, winter is passing with smiles so arch,
And now we have windy and chilly March.
But despite the winds that are loud and drear,
The beauties of Spring now begin to appear;
And soon we'll enjoy the season gay,
With its beautiful flowery month of May;
So blow old March, while your powers last,
Soon April and May will your glory blast.