Nature in Your Hands …
by Whitney Lash-Marshall, Executive Director
and Emily Overstrom, Environmental Educator
As your community-based nature center we strive to serve as a space for people of all ages to get outside and enjoy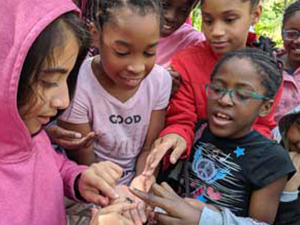 new moments in nature. For us, "nature in your hands" is more than a tagline – it's a philosophy that is central to the programs we offer and the experiences we provide. We believe that hands-on, engaging experiences in nature have a profound impact on us, both as individuals and as a broader community. They help us be more aware of the wonders of the natural world, allow us to de-stress and feel restored, and ultimately inspire us to be connected to and help steward the environment we live in.
For many of you who visit Baltimore Woods, you find these connections along the trails as you seek out special spaces where you can reflect, recharge, and just get away from day-to-day life. For others, you come here looking for up-close encounters with the natural world to discover more about the amazing things that happen in nature every day. How has Baltimore Woods Nature Center helped you experience "nature in your hands?" Maybe it was a public program where you saw a new bird up close, maybe you heard a child tell the story of seeing a frog in the pond for the first time on a field trip or how salamander feet tickled as they walked along her hand on Earth Day, or maybe your family shares multiple generations of stories of swamp day at summer camp. No matter the season or how big or small the moment, we want to know how these immersive experiences in nature have made a difference for you, your family, and our community. Our vision for the future is to put nature in even more hands by providing
new opportunities for environmental education, recreation, play, and research. We're working to expand the preserve, reach broader audiences, strengthen our community partnerships, offer new programs and increase the number of programs we offer – and we want to hear from our community! Send us your stories to  [email protected]. Don't have a "nature in your hands" moment yet? What better time to try this
out than in the new year! Our upcoming programs will help you accomplish this, including those that help us experience nature in a new way, like "Our Homes, Their Habitats", or help us to slow down and appreciate the world around us, like "Beauties of Winter" in February or "The Trees are Calling and I Must Paint" in April. We hope you'll join us to experience the restorative qualities of getting outside and connect to nature here at Baltimore Woods.
… Nature in More Hands!