Nature in the City News!
by Alexandra Grove, Environmental Educator
The new year brings with it exciting opportunities for educators and students to explore the natural world around them. Educators get to see students light up when they walk in the room with something amazing to share, like watershed models, peregrine falcon mounts, and snow catchers.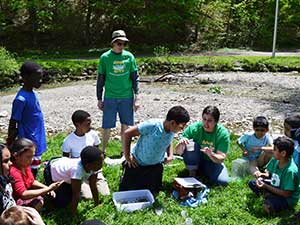 The second we walk into a school, children recognize the Nature in the City logo on our shirts. Young faces widen in smiles as they ask if we will be visiting their class today. A familiar voice sparks recognition as it exclaims, "I was in your camp group!" The job of an educator is multi-faceted. When school is out, our educators transform into camp counselors. All year long we make connections between nature, ourselves, and budding stewards. It is always a pleasant surprise when we see campers in the classroom.
Families that connect their children both as students in the classroom and campers at The Woods experience our approach to nature in these different settings. Although Baltimore Woods and green spaces in the city may appear dissimilar to these students, we show them through interactive, outdoor lessons that opportunities for discovery emerge in both spaces. The look of wonder as we explore their school yard parallels the encounters with nature they have during camp. One of the families we connect with shared about her two children, "Both kids like to name plants in our neighborhood they have seen at [Baltimore Woods]."
As we transition back and forth from counselors to educators, we maintain a passion for getting children to explore the outdoors. We show children how to put nature in their hands everywhere they go. Our place-based, hands-on Nature in the City lessons instill a sense of belonging as children get outside to discover the wonders right outside their door.