Week of October 3 – October 9, 2021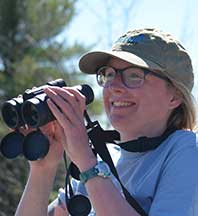 by Anna Stunkel, Environmental Education Intern
Here in Central New York, we are fortunate to have so many different natural areas to explore. These include some very special birding hotspots, such as Montezuma National Wildlife Refuge, which is west of Auburn on Route 20. The refuge is carefully managed with the needs of wildlife in mind, and it's an important stopover refueling site for migrating birds along their spring and fall journeys. Many birds also raise their young here in the summer. Montezuma is an especially fun local spot to visit because of the changes in bird diversity throughout the seasons.
I feel very fortunate to live close to this incredible place, and every time that I visit there are new surprises. One evening last summer, I was looking out across one of the marshes and suddenly, shorebirds and waterfowl started flying up from all directions. I looked up to see the cause of the commotion; a peregrine falcon had landed right above me in a huge dead tree, the perfect hunting lookout perch! As the sun was setting, this fierce raptor fluffed up his or her feathers and gazed down at me, which was a very special moment.
As October begins, many shorebirds are finishing up the tail end of their migration while waterfowl are just starting to arrive in larger numbers. Soon, the pools of Montezuma will be bustling with activity as rafts of ducks and geese dive and dabble for food.
Would you like to learn more about the magic of this place? For more information, take a look at the Montezuma National Wildlife Refuge website here: https://www.fws.gov/refuge/montezuma/   I hope you enjoy exploring this beautiful refuge!