Market Brings Local Food and Friends Together
by Sue Jones, Market Manager
It's true! Simple acts of stewardship, like shopping for locally produced items at the Baltimore Woods Winter Farmers Market, can make you feel you're doing your part to help the planet and your community!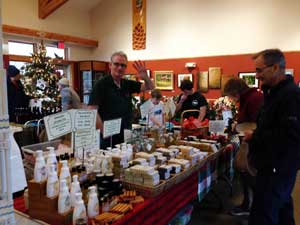 Since 2014, the market has been a place where customers can meet and buy goods from some of CNY's top sustainable growers and artisanal food and beverage producers. Bob Lee from Balsam Rose Soap Company, who has been selling his handmade products at the market since its inception, commented "I enjoy greeting friends at the market; both vendors and customers…a great continuation of the many summer farmers markets, customers
have the opportunity to purchase local goods all year long."
The market is also more than a chance to shop. The room is fragrant with the smells of freshly roasted coffee, there's always a colorful backdrop of local nature-inspired art on display, and occasionally, we feature local musicians. Customer Jane Hastedt noted, "I enjoy buying goods that have been produced or grown nearby and not shipped from hundreds of miles away and getting to know the folks that produce what I buy. And it's just fun to be here. I always bump into someone I know at the market."
After shopping, customers can wander to the back deck to watch birds enjoying their own "local food" or enjoy a hike. Mark your calendar for these upcoming market dates: January 11, February 8, March 14, and April 11 from 10am-1pm. Free parking. Look for the market on facebook.