We're Keeping our Community Connected
to Nature… and You Can Help!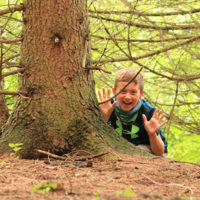 In a year that has looked different in so many ways for all of us, we continue to deliver our mission: to put nature in your hands and provide a place where you can connect with nature through environmental education, recreation, play, and research.
During times like these, it is critical for all of us, and especially our children, to stay connected to nature. We have made sure the trails are open and accessible, updated on-site camps and in-person programs to keep staff and participants as safe as possible, and provided virtual field trips, programs, and videos to help people of all ages engage in in-depth explorations of the natural world no matter where they are. Our community has never been stronger – but we need your help to continue providing these resources and navigating the challenges surrounding COVID-19. No gift is too small – every little bit helps us keep providing these resources and more. If you are able, we ask you to consider making a gift of $75 or more in support of Baltimore Woods Nature Center as a year-end gift in 2020.
Thank you for helping ensure continued stewardship of the preserve and uninterrupted and innovative environmental education programming for all ages, in all seasons.