Week of October 29, 2023 – November 4, 2023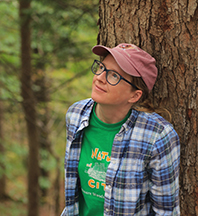 by Anna Stunkel, Environmental Educator
Do you remember some of your first experiences observing birds as a kid? For many of us, birds spark our love of nature thanks to their beauty and the ease of observing them. They are truly everywhere, from the coldest tundras to the hottest deserts and busiest cities. Some people fondly remember a "spark bird" or pivotal moment that got them hooked on birding. For me, it was more of a collection of moments strung together that inspired a love of birds.
Watching House Finches incubate their jellybean-sized eggs in a hanging plant, searching for brightly colored warblers in "Nature's Neighborhood" behind my elementary school, keeping a birdfeeder journal, riding my bike on the Cape Cod Canal and admiring the eiders and other sea ducks bobbing along… all of these memories burn bright in my mind along with many more. Near my grandparents' house, I filmed "nature documentaries" with an old camcorder and was elated to discover my first Scarlet Tanagers feeding on caterpillars in the treetops.
These experiences have something in common– adults in my life who encouraged a love of birds. My parents, grandparents, teachers, and mentors who led programs for Mass Audubon all had a huge impact on how I feel about birds today. If it wasn't for their encouragement, you wouldn't be reading this!
As an Environmental Educator here at Baltimore Woods, I feel so lucky to share the joy of experiencing birds and nature with children every day. When we visit schools in Syracuse for the Nature in the City program, it's always wonderful to see how excited the students are to notice birds flying overhead and to use binoculars. A few days ago, a group of kindergarteners at Salem Hyde was overjoyed to watch a Red-tailed Hawk fly low over the class. One time a student happily told me, "binoculars are magic!" On a fifth grade field trip last week, a student excitedly pointed out a Downy Woodpecker climbing high in a tree, which prompted discussion of how woodpeckers use both live and dead trees as homes in the forest ecosystem.
Think back to your own childhood and remember adults who helped you to connect with birds, or nature in general. Where did you go adventuring with them, and what kinds of moments did you share?
Now think about the children in your life today, whether they be your own children, relatives, a friend's kids, or students. How could you be like the adult who encouraged you to love birds or nature as a kid? This kind of nurturing can be life-changing for children, helping them to become stewards of the planet and enriching their own well-being every day. Next time you go outside with a child in your life, take a moment to slow down and listen to the birds singing or watch a chickadee visit a birdfeeder. You never know, they may end up holding that memory in their heart forever.
P.S. Check out the first photo below for a special memory of Anna meeting an eagle with her grandfather!