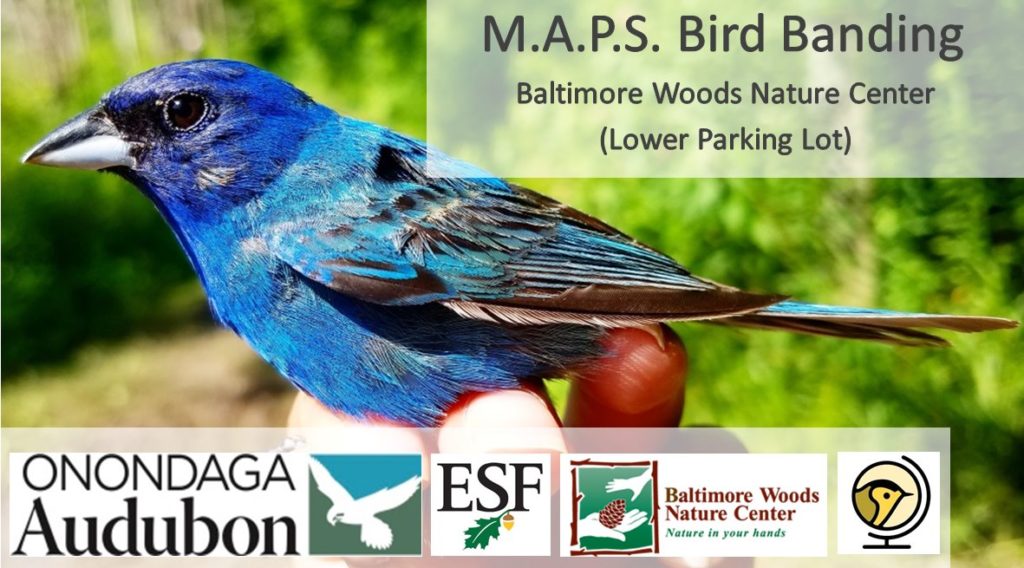 Onondaga Audubon will be running a Monitoring Avian Productivity and Survivorship (M.A.P.S.) Bird Banding Station for a third year in conjunction with SUNY-ESF, Baltimore Woods Nature Center, and the The Institute for Bird Populations. Join them at one of the seven banding dates this summer to learn how  birds are banded and why bird banding is so important to avian conservation.
Take a birdwalk through the fantastic trails Baltimore Woods has to offer and then stop by the banding station to see the banders at work between 6am and 11am. Please remember that their focus will be on providing the safest environment possible for the birds so please give the banders room to work and share the space with others wanting to observe the process. If they are busy and have multiple birds they may not be able to immediately answer questions but will be happy to do so when things slow down.
The following dates are planned for bird banding but are subject to change due to weather or bander availability. Please check the Onondaga Audubon Facebook Page for an update on whether or not a banding session will take place when planned or if it has to be rescheduled.
Tentative Banding Dates (subject to change):
1. Saturday, June 8 (June 9 rain day)
2. Friday, June 14 (June 15 rain day)
3. Saturday, June 22 (June 23 rain day)
4. Saturday, July 6 (July 7 rain day)
5. Saturday, July 13 (July 14 rain day)
6. Saturday, July 27 (July 28 rain day)
7. Tuesday, August 6 (August 7 rain day)