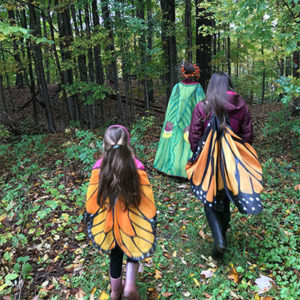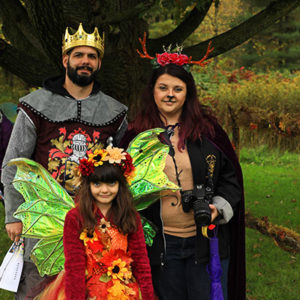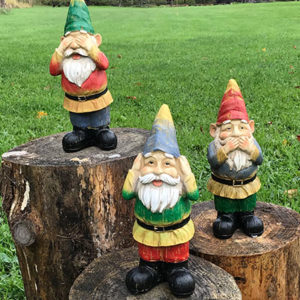 There's magic in The Woods!
Autumnal Fairy Fest
at Baltimore Woods

October 10, 2020
12-2 pm and 2-4pm
One remarkable day in autumn, when the trees are a flutter with the colors of fall, the enchanted side of Baltimore Woods shimmers through. Fairies, trolls, and other fantastical creatures can be seen and heard frolicking through the forest. Those bridge trolls are at it again! They have imprisoned the Fairy Queen and it is up to all humans and magical creatures to free her. Along the Enchanted Trail you will meet many such creatures who will help you on your quest – a potion maker in the Wee Folk Forest, a fortune-telling mermaid, minstrels, and more! Just watch out for the trolls! Costumes are encouraged and imagination is a must!
The Fairy Festival will follow a one-way path around the Enchanted Trail, including going into the valley. Trail conditions will vary with weather, so please wear appropriate footwear. The Valley Trail section may not be suitable for people with limited mobility or tiny legs, and strollers are not recommended. There will be a Valley Trail bypass available for those not wishing to go on that section. The Fairy Queen has decreed that the festival will be divided into two time-windows, to allow for physical distancing between participants.
Choose your entry time and click below to sign up for a day of fun and imagination!
Arrive anytime within the first 30 minutes of your time window.
Expect to spend two hours at the Festival.
This event has been planned in compliance with New York State and CDC Guidelines for outdoor events during the COVID-19 pandemic. Guests will be required to bring a mask, complete a self-screening before entering the gardens, and adhere to all physical distancing requirements during their visit. Hand sanitizer will be made available throughout the Enchanted Trail for those who may need to use it, and hand washing stations will be available near the portajohns available for guest use. 
At Baltimore Woods Nature Center, the health and safety of our staff and visitors is of utmost importance. All in-person programming will follow best practices for keeping our participants safe, including physical distancing and wearing facial coverings. All registrants will be sent an email in the days leading up to the event with more details about our COVID-19 safety protocols at the Autumnal Fairy Festival.