What do you get when you mix a hike, expert naturalists, room to explore, and a dash of serendipity?
A Perfect Adventure for Kids Ages 5-13!
Inspired by one of the great naturalists of the 19th century, Enos Mills, each excursion will take us on an adventure through Baltimore Woods as we explore away from the main trails. Our 182-acre "classroom" is rich with diverse habitats, including streams, forests, wetlands, beaver ponds, and open meadows. This four-week series runs weekly on Thursday afternoons. $40 members; $60 public. Pre-registration is required and the price includes all four weeks. Weekly themes for  June are listed below, so get ready to hit the trails!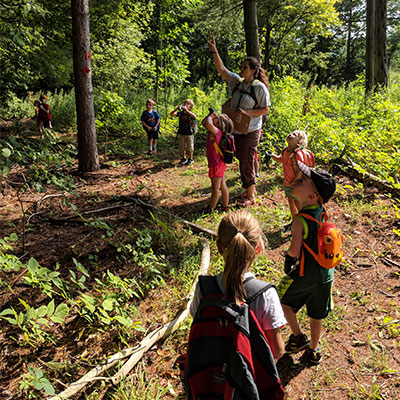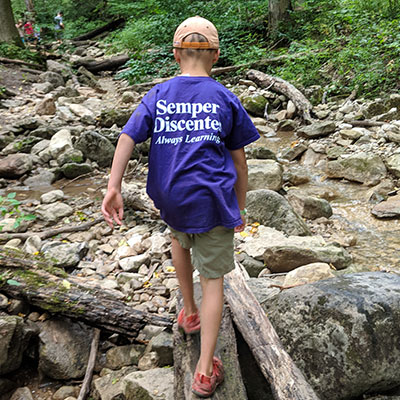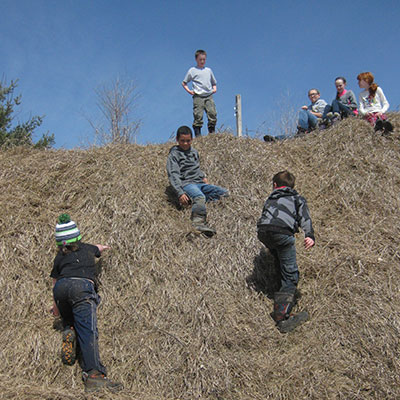 June Trail School Explorations

Exploring Hidden Meadow
June 3 from 1-4pm
You never know what you'll find in the meadow. The tall grasses, wildflowers, and shrubs hide little birds and attract all kinds of pollinators. What amazing things will we discover?
Harrison's Hideaway
June 10 from 1-4pm
Have you ever found clay in a stream? Let's go find some on our preserve! This week we're digging for clay and exploring all the wonderful creations that can be made with this natural gift.
Hike to Boulder Brook
June 17 from 1-4pm
One of the most beloved places on the preserve, the rocks that align the stream of Boulder Brook are a wonder to look at. Not only that, but there's plenty of cracks and crevices to find aquatic creatures. Let's go explore here!
Miami Beach
June 24 from 1-4pm
It's summer-let's go to the beach! This week we'll make our way to Miami beach for a fun day in the sun. As we explore we'll learn about where all that sand came from and see who can climb the sand hill the fastest!
---
More details: This program is planned to be entirely outdoors, so please dress for the weather. Lessons are suited for ages 5-13. Students must pre-register for the entire series. Adults are encouraged, but not required to join the group, and must stay on-site during the program. Bring a water bottle and a small snack. At Baltimore Woods Nature Center, the health and safety of our staff and visitors is of utmost importance. All in-person programming will follow best practices for keeping our participants safe, including health screenings, physical distancing and wearing facial coverings.
What can you expect from Trail School? This program focuses on child-led learning through play and exploration with the guidance of a naturalist who knows the preserve and the skills to encourage discovery, inquiry, experimentation, and imagination. Each day will include a hike through the forests and fields, often away from the main trail system. Naturalists will have field guides, magnifying lenses, observation jars, and other tools of discovery to help children deepen their curiosity and facilitate on-the-spot learning. Of course, nature itself will provide anything else we need, and there will be time for free play and the space for each child to connect with nature in their own way. Our naturalists are all CPR and First Aid certified, carry first aid kits and two-way radios, and are ready to keep the fun and exploration safe for your child. 
The Philosophy Behind Our Trail School
Enos Mills himself describes the philosophy best as he talks about his Trail School at the base of Longs Peak, over 100 years ago: "These children were dealing with real things through interest, and their imaginations blazed with more keenness than it was possible for the powers of legends and fairy tales to incite. They had been to school, had studied, had worked, had learned without realizing it. Their reports amounted to enthusiastic recitations of new, big lessons well learned. Best of all, they were happy, and were eager to go on with this schooling – this developing."
Our professionally trained and experienced environmental educators bring a wealth of knowledge and a passion for hands-on discovery and learning, while building lasting connections to the natural world and inspiring a sense of stewardship in your children.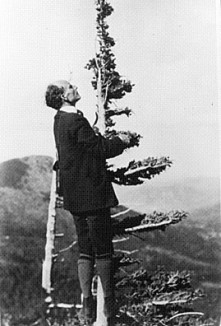 For more on Enos Mills, visit www.enosmills.com.  His book, Adventures of a Nature Guide is highly recommended!