What do you get when you mix a hike, expert naturalists, room to explore, and a dash of serendipity?
Trail School at Baltimore Woods!
Inspired by one of the great naturalists of the 19th century, Enos Mills, each excursion will take us on an adventure through Baltimore Woods as we explore away from the main trails. Our 182-acre "classroom" is rich with diverse habitats, including streams, forests, wetlands, beaver ponds, and open meadows. This three-week series runs weekly on Friday mornings. $30 members; $45 public. Pre-registration is required and the price includes all three weeks. Themes for each week are listed below, so get ready for some October exploration! 
What can you expect from Trail School? This program focuses on child-led learning through play and exploration with the guidance of a naturalist who knows the preserve and who will provide children with the opportunities to further their interests outside. The day will be full of activities and games that inspire children to explore. There will be tools like critter catchers, magnifying glasses, and of course whatever we can make with the natural tools around us that help facilitate children deepening their curiosity and discovery. A lot of our learning will be on-the-spot learning and there will be free play and time for each child to connect with nature in their own way!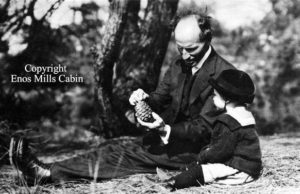 "Often I am too busy, or there are too many boys and girls, or it seems best to have someone else accompanying a party afield. But to find individuals who will do this without becoming teachy or preachy and deadly to the children is most difficult. Most teachers, some parents, and many others want us to ignore interest and desire and force of the children to memorize something which they consider worthwhile." – Enos Mills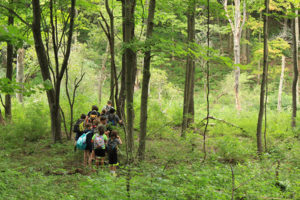 Students will explore our 182-acre "classroom" and experience hands-on discovery and learning while connecting to the natural world!
Three Weeks of Explorations in October!
Overlooks, Fields, and Forests
October 16, 2020 from 9am-12pm
The signs of fall are here and the Overlook and Field to Forests trails will lead us to a world of discovery. Let's explore and see what we can find!
---
March to Peanut Hill
October 23, 2020 from 9am-12pm
Let's march to Peanut Hill and hunt for a spot to build a mighty fortress! We'll scout for mushrooms and armor along the way and play a grand game at the end of the day!
---
Secret Spots and Spooky Stories
October 30,2020 from 9am-12pm
Let's explore some of the most secret spots at Baltimore Woods! We'll search high and low and share our favorite spooky stories along the way.
More details: Children must be accompanied by an adult. Bring a water bottle and a small snack, and dress for the weather. At Baltimore Woods Nature Center, the health and safety of our staff and visitors is of utmost importance. All in-person programming will follow best practices for keeping our participants safe, including physical distancing and wearing facial coverings.
The Philosophy Behind Our Trail School
Enos Mills himself describes the philosophy best as he talks about his Trail School at the base of Longs Peak, over 100 years ago: "These children were dealing with real things through interest, and their imaginations blazed with more keenness than it was possible for the powers of legends and fairy tales to incite. They had been to school, had studied, had worked, had learned without realizing it. Their reports amounted to enthusiastic recitations of new, big lessons well learned. Best of all, they were happy, and were eager to go on with this schooling – this developing."
Our professionally trained and experienced environmental educators bring a wealth of knowledge and a passion for hands-on discovery and learning, while building lasting connections to the natural world and inspiring a sense of stewardship in your children.
For more information of the power of nature play for children check out The Children and Nature Network's extensive library of research:
https://www.childrenandnature.org/learn/research/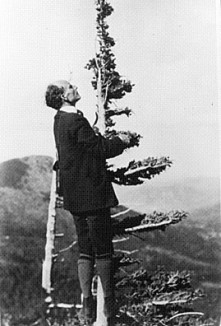 For more on Enos Mills, visit www.enosmills.com.  His book, Adventures of a Nature Guide is highly recommended!