Nature Adventure Day Camp:
A Baltimore Woods summer tradition for over 30 years!
For Children in Grades K-8
Week 1 ~July 6-10
Week 2 ~ July 13-17
Week 3 ~ July 20-24
Week 4 ~ July 27- July 31
Week 5 ~ August 3-7
Week 6 ~ August 10-14
Week 7 ~ August 17-21
Week 8 ~ August 24-August 28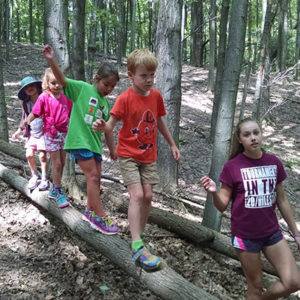 Limited spaces still available Week 4 (July 27-31) for traditional camp in Kindergarten, 1st, 2nd, 3rd, 5th, 6th, 7th, and 8th grades as well as two seats left in Voyager camp for grades 5-8.
This is the core of our summer camp programming, week long day camp adventures that promote discovery, physical fitness, problem-solving skills, social interaction, and awareness through direct contact with the natural world. Campers will find crayfish in the streams, build forts on Peanut Hill, explore the wonders of the beaver pond, catch frogs at Phillips Pond, build a campfire, roast hot dogs, get up close and personal with the swamp, play classic Baltimore Woods camp games like Camouflage and Kick the Can, make new friends, learn about the trees and birds, and get connected to the natural world in real and meaningful ways.
Our camp counselors are experienced in working with children, including NYS certified teachers, who have an eye for safety and know how to have healthy fun outdoors. Counselors are all certified in CPR and carry walkie-talkies and first aid kits at all times.
Camp runs daily from 9am-3pm, children sign up on a week-by week basis. Campers are encouraged to attend multiple sessions, as every week provides something new and unexpected.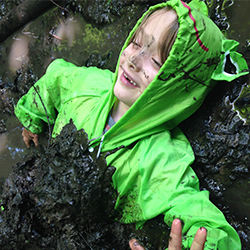 The Swamp:
A highlight of camp for more than a decade has been the Swamp Romp, when the campers voluntarily immerse themselves in mud, getting as muddy as they possibly can. Prior to hitting the swamp campers hike deep into the woods, have a hotdog cookout over an open camp fire followed by making s'mores for dessert. Parents are notified in advance what day their camper will be going to the swamp so they can prepare their vehicles to take the muddy campers home. Campers will be hosed off at the end of the day, but mud is mud…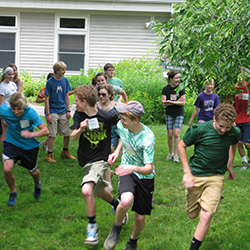 Kick-the-Can:
The Kick-the-Can game tradition started on the first day of camp going back more than 25 years. It is a game of hide-and-seek. It is the most requested game by campers. Each group will get several opportunities to play the game throughout the week.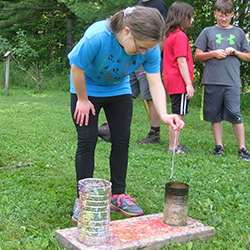 Candle Making:
Harkening back to the original establishment of Baltimore Woods as a nature center, campers will have the opportunity to make their own hand-dipped candles.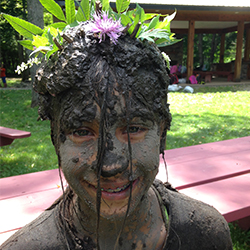 Camouflage:
A classic nature education game teaching the concept of predator prey relationships and camouflage. It's hide-and-seek with a nature twist.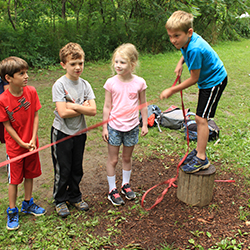 Tug-o-Stump:
A game of balance and strategy, this traditional lumberjack tug-o-war game has become a camper favorite over the years.
Details:
The camps will be led by skilled naturalists.
Sessions are themed, and campers can attend multiple sessions.
Camp will begin daily at 9am and end at 3pm.
Pricing:
$207 per session.
Multiple week and multiple child discounts ($5) are automatically applied when you register. Discounts apply beginning with the second child and/or the second week.
All camp families must have a Baltimore Woods Nature Center Family Membership ($40) to attend camp, active both when you register and when your child attends camp. A family membership can be purchased or renewed at registration.