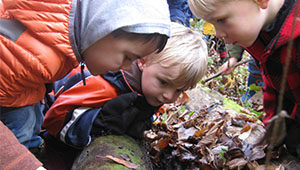 Calling all Little Explorers! Fall is a beautiful time for a nature adventure. Come play in the woods and discover all the wonderful changes happening all around. Just because the days are getting shorter doesn't mean we can't still make the most of them!
This six-week series meets on Wednesdays from September 18th through October 23rd. Each week will feature walks, hands-on discovery, and play outside (rain or shine). Topics will include Apples, Log-rolling, Falling Leaves, Fairy Houses, Tricky Nature, and Web-slingers. Children must be accompanied by an adult. Lessons will go outside every day, so be sure to dress for the weather. This six-week series will meet on Wednesdays, September 18, 25, October 2, 9, 16, and 23. Program for 3-5. $35 for members; $50 for public.
Membership discount will be applied at check out when using your member account to register.