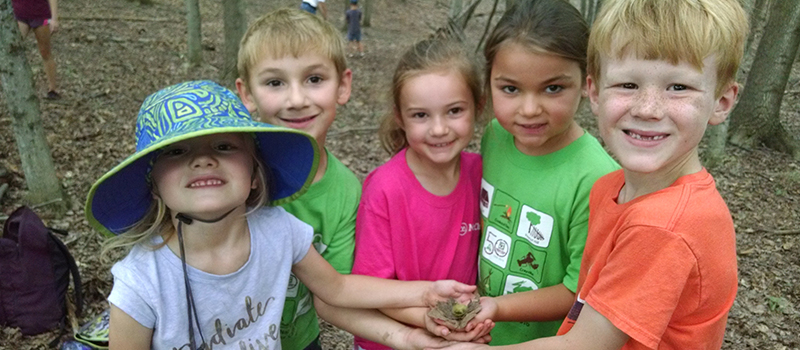 A Message from the Camp Director
June 8, 2020
Thank you so much for your continued patience and understanding as Baltimore Woods tries to navigate the very different world of operating a summer camp program this year. After weeks of research and discussion and very careful thought, we have decided to move ahead with our plans to open our Summer Nature Day Camp as scheduled. We believe that your children need camp, and need our kind of nature-play based camp in particular right now.
That said, we are closely monitoring the evolving requirements at the state and local level related to summer camp operations and need to be transparent that there is a chance that a decision is made at one of these levels that alters our plans or means we cannot offer camp. We are, however, diligently updating our camp safety protocols based on the most recent guidelines offered by the CDC and the American Camp Association and are confident that we can meet existing guidance. A full overview of our updated protocols will be available for your review next Monday, June 15th and we will provide opportunities for you to have your questions answered. A copy of this will also be available on our website. In the meantime, if you would like to review the CDC's considerations for camps, they can be found here: https://www.cdc.gov/coronavirus/2019-ncov/community/schools-childcare/summer-camps.html
Part of these updated safety protocols include the need for us to closely evaluate and reduce our weekly camp capacities to maintain camper and staff safety. For this reason, registration – including waitlist registration – is currently closed while we communicate with currently registered families. We will only re-open registration for any weeks that we have space following this communication, which we will announce in an email to our camp families, members, and on our webpage. Waitlist registrations will also resume at that time.  If you are unsure if you are on our email listserve, please email sue@baltimorewoods.org with your email and we will be sure that you are sent the announcement if registration resumes. 
We are unable to offer our preschool Nature's Little Explorers camp this summer, again due to safety concerns. We understand this will be disappointing to those families, and we will miss hosting these newest campers. We are working toward alternative program opportunities to offer this age group during their scheduled camp weeks and we will be contacting each of those families with more details and options for processing refunds, if preferred, as soon as possible.
We are also cancelling Before and After Care for this summer. One of the most important things we can do to minimize potential spread of COVID-19 at camp is to limit mixing of campers outside of their core camp groups. We recognize that this is a service many of our families have relied on over the years and are truly sorry for the inconvenience. We will be offering refunds for those who already signed up.
​We understand that not everyone will be comfortable sending their children to camp anywhere this summer, and we intend to provide alternative camp experiences for you and your child to participate in from home and keep your child's love of the outdoors alive. We will have more details on these opportunities soon.
If you as a parent are concerned about sending your child to camp this summer, we do understand. Requests for cancelling registrations can currently be processed and must be made before the first day of Summer Nature Day Camp (July 6, 2020) to receive a refund. We have typically assessed a $30 non-refundable deposit on camp refunds to cover Active Network registration fees which have already been paid and support staff time to process the documentation and payment. We understand that during this difficult time many families need a full refund, and will issue the full amount of the refund upon request.
​Everyone's safety will be of paramount concern, and that does mean that some of our traditional large-group camp activities will not be happening this summer. While camp will be somewhat different, the core values of our camp remain the same – the benefits of playing outside for children cannot be overestimated, and the personal connection with nature they develop at camp will last their whole lives.
Please stay tuned for more details and updates, and thank you to everyone who has been sending us notes of encouragement over the weeks!
Sincerely,
Tom Meier
Camp Director