Camp…It's Not Just For Kids!
It's for Teens in Grades 9-11, too!
Recognizing the need to continue the camp experience beyond our traditional summer day camp, we've put together some outstanding programs that will engage teens on multiple levels. Each week participants will engage in hands-on learning experiences that will challenge their minds, develop new skills, and dig deeper into nature conservation.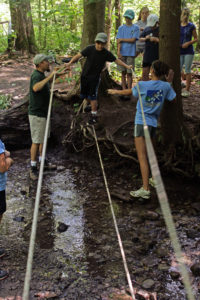 Session 1 – August 7-12
Ultimate Outdoor Challenge
Do you have what it takes to cross a stream without getting wet? Navigate a swamp without getting dirty? Believe there's no obstacle so great that you can't slip, slide, roll, run, jump or crawl through it? Could you find navigate the woods, start a fire with only the natural elements, and defend your teammates in an epic water balloon fight? If you've answered yes to any of these questions then you may be up to the Ultimate Outdoor Challenge!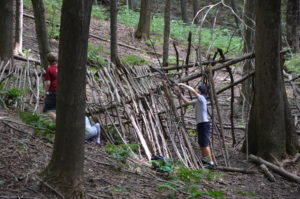 Session 2 – August 14-18
Teen Vs. Wild: Primitive Survival Skills
Ever wonder what it would take to truly live with the land? Follow in the footsteps of the great pioneers and voyageurs of old as you learn primitive survival skills, Native American and pioneer craft, lashing, tracking, fire building, campfire cooking, and more! Explore a time when living was not always easy, but there was no question that you were alive.
Details:
The camps will be led by skilled naturalists.
Teen Camp is limited to 12 participants per session.
Sessions are themed, and campers can attend multiple sessions.
Camp will begin daily at 10am and end at 3pm.
Before and after care are available, if needed.
Pricing:
$167 per session.
Early Registration – Register by April 30, 2017 and deduct $10 from the total camp registration fee.
Multiple week and multiple child discounts ($5) are automatically applied when you register. Discounts apply beginning with the second child and/or the second week.
You must have a Baltimore Woods Family Membership ($40) to attend camp which can be obtained at the time of registration.