NOTE: Our Winter Market has been rescheduled from January 13th to January 20th due to inclement weather! Hope to see you then!
January 20
Winter Farmers Market
10am-1pm
Visitors to the market will enjoy a diverse mix of local farm and artisanal food products from top regional producers. Held on the second Saturday of each month through spring. Indoors with free parking. Visit the Winter Farmers Market page on facebook for details.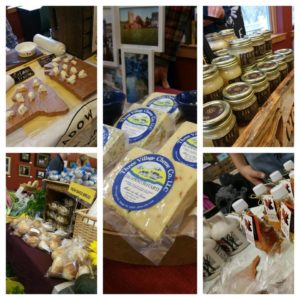 January 16 – February 27:
Homeschool Adventures in Nature Winter Series: Winter Photography
10-11:30am
Note: This program has been cancelled due to low enrollment. Please check our public program listings for other opportunities for children and families at The Woods!
Bare trees, crystal skies, icicles dangling above the stream… with its many habitats, Baltimore Woods is a wonderful playground for a photographer. Each week we'll head to a new location, exploring and discovering the woods with the eyes of photographers. Bring a camera (any will do!) and follow in the snowy footsteps of artists and naturalists as we learn their secrets to freezing moments in time.
Bring your own camera, or contact Tom at tom@baltimorewoods.org if you do not have access to one. Participants must be accompanied by an adult. Each session will spend significant time outside, please dress appropriately. This six-week series will meet on the following Tuesdays:  January 16 ,23, 30, February  6, 13, and 27. Homeschool Adventures will not meet on February 20 because of Winter Break Camp. Program for ages 5-16. $35 for members; $50 for public.
January 17 – February 28:
Nature's Little Explorers Winter Session: Winter Patterns
10-11am
Winter is a great time to explore nature's patterns! Each week we will discover the many wonderful patterns of trees, birds, snowflakes, tracks, and even sounds.
Weekly themes in order: Mirror, Mirror; Tree Patterns; Bird Patterns; Sound Patterns; Snowflakes!; Animal Track Patterns Children must be accompanied by an adult. Lessons will go outside every day, so be sure to dress for the weather. This six-week series will meet on the following Wednesdays:  January  17th, 24th, 31st, and February  7th, 14th, 28th. NLE will not meet on February 21st, due to Winter Break Camp. Recommended for ages 3-5. $35 for members; $50 for public.
January 18
Wandering Through Winter
10-11:30am
Join Tom Meier on an inspirational snowshoe hike through The Woods. We will stop at some of the best winter views our trails have to offer, and reflect on the words of a legendary naturalist, Edwin Teale. Snowshoes will be provided, terrain will be relatively flat. No snow? No worries – we will still go out for a walk! Program for adults. $6 for members; $9 for public.
January 19
Star Party: Finest Winter Skies
7-9pm
Winter skies at their finest! The area surrounding the constellation Orion has more bright stars and deep-sky clusters than any other section of the sky. And there will still be good views of Uranus, as well. Back up date January 20th. Be sure to dress warmly. Program for all ages. $6 for members; $9 for public.
January 20
To Build a Fire: Secrets of Winter Fire Making
10:30am-1:30pm
Learn how to make and maintain fires in cold, snowy and wet conditions. We will cover fire making, both with and without matches, how to find dry material and process it into kindling and tinder. We will also delve into the "Fire Burrito" and other tips and tricks. Dress appropriately for the weather since we will be outside for the bulk of the program. Program for ages 10 and up. $10 for members; $15 for public.
January 27
Under the Owl Moon
7-8pm
NOTICE: Tonight's program, Under the Owl Moon, has been cancelled due to low enrollment, but we welcome you to come for a hike anytime, Our trails are open dawn to dusk every day!
Grab your flashlight and winter gear and join us as we search for our favorite nocturnal friends – owls! After a hike down the Valley Trail, follow us inside for some hot chocolate and a reading of one of our favorite owl stories. Program for ages 6 and up. $6 for members; $9 for public.